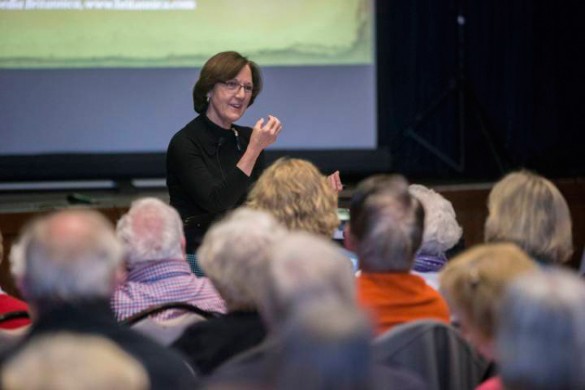 Cherokee history in Middle Tennessee, Jane Austen's writings beyond Mr. Darcy, and issues surrounding gun ownership in the United States are among the Osher Lifelong Learning Institute at Vanderbilt topics for spring 2016.
Other diverse courses will focus on the poetry of William Butler Yeats, Judaism, transitional justice in South Africa, poet/soldier David Jones, and Shakespeare across four centuries.
"We are also pleased to offer an Osher class in partnership with the Nashville Ballet and 'Great Decisions' classes on foreign policy in both Nashville and Brentwood," said Norma Clippard, director of the Osher Lifelong Learning Institute at Vanderbilt.
The Osher Lifelong Learning classes at Vanderbilt are open to all those 50 and older who are seeking an intellectually stimulating, but also relaxed and supportive, environment for learning. No particular level of education or degree is required to enroll in these noncredit classes.
Two classes are offered for six Mondays, beginning March 28, at St. George's Episcopal Church. "David Jones, 'The Last Magus'" meets from 9 to 10:10 a.m. Marc K. Stengel, publisher and editor of Historix Editions, will introduce Osher students to Jones, whose talents included poetry, painting and philosophy. Jones continues to exert occult-like powers over those who chance upon his work, according to Stengel. Meanwhile, "Intellectual Sampler," which meets from 10:20 to 11:30 a.m., will showcase noted Vanderbilt faculty in different fields by offering lectures in literature, music, history and science.
For six Tuesdays, beginning March 29, two classes are scheduled at The Temple. "Guns: An American Obsession" will be taught from 9:30 to 10:45 a.m. by Laurie Woods, lecturer in sociology. This seminar looks at how guns became a part of American culture and examines some of the facts and myths that are attached to gun ownership. Then Cherokee historian Pat Cummins will teach "Culture in Transition: The Cherokee in Middle Tennessee" from 11 a.m. to 12:15 p.m. He will examine Cherokee history from the American Revolution to the Trail of Tears with a focus on the Cherokee presence in Middle Tennessee.
The Commons Center on the Vanderbilt campus will host two classes on six Wednesdays, beginning March 30. "More than Mr. Darcy: The Novels of Jane Austen" will be taught by Andrea Bradley Hearn, senior lecturer in English. The class will cover Austen's six novels with a focus on what she considered important in her stories, including the relationships she returns to again and again. Rabbi Rami Shapire, who serves as director of One River Foundation, will lead "Judaism in Six Words." The class meets from 11 a.m. to 12:15 p.m. Shapiro will focus on six key words that will help students gain a greater understanding of Jewish thought and wisdom.
Osher students also will meet at The Commons Center for two classes on six Thursdays, beginning March 31. Robert Barsky, a professor of French, English and comparative literature, will teach "William Butler Yeats and the Meaning of Poetry in the Modern World." Barsky will review Yeats' major works and relate them to his biography. Then Clive Mentzel, senior lecturer in political science, will lead "The Truth and Reconciliation Process in South Africa – Where Is the Truth and Where Is the Reconciliation?" This course will examine transitional justice in South Africa and the need for a Truth and Reconciliation Commission there. Mentzel's class meets from 11 a.m. to 12:15 p.m.
For six Fridays beginning April 1, Ann Jennalie Cook, professor of English, emerita, will teach "Shakespeare Across the Centuries." The class will meet from 10 to 11:30 a.m. at the Williamson County Library. Cook, who is vice president of the International Shakespeare Association, will look at the ways people's understanding of and encounters with Shakespeare have changed between his time and the 21st century.
A class fee of $80 entitles adult students to take three classes, with a $10 fee for each additional course. There are also three special offerings that are priced separately. "Great Decisions," a foreign policy discussion group, will take place on Mondays from 2 to 3:30 p.m. at The Heritage at Brentwood. "Great Decisions" also will be offered on Wednesdays from 2 to 3:30 p.m. at the Cathedral of the Incarnation. In addition, OLLI at the Ballet will be an intimate discussion, demonstration and participation in the world of dance. Starting March 29, there will be five sessions led by Mitchell Korn, adjunct professor of music and community at the Blair School of Music, and Paul Vasterling, artistic director and CEO of the Nashville Ballet.
Interested individuals can register online for classes. For more information, email Norma Clippard or call 615-322-5569.