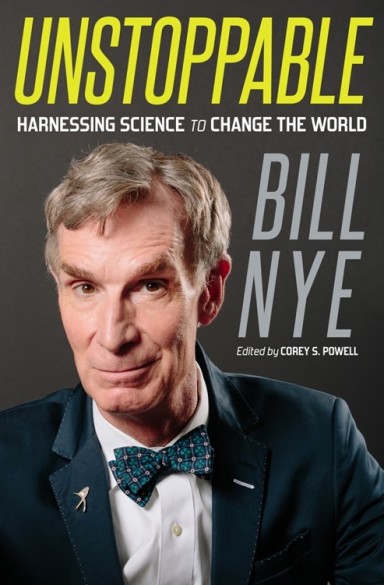 Barnes & Noble at Vanderbilt welcomes science educator, TV personality, comedian and political commentator Bill Nye to the store Thursday, March 31, at 1 p.m. for a signing of his latest best-seller, Unstoppable.
Best known as host of his Emmy Award-winning Disney/PBS children's science show, Bill Nye the Science Guy, from 1993 to 1998—and from many subsequent appearances in popular media as a science educator—the bow tie-wearing former mechanical engineer has become an American icon for all things science. In recent years he's become known more for his outspoken challenges to counteract difficult environmental issues such as climate change.
Unstoppable addresses those environmental issues with Nye's trademark optimism, humor and scientific curiosity. "With a scientist's thirst for knowledge and an engineer's vision of what can be, Bill Nye sees today's environmental issues not as insurmountable, depressing problems but as chances for our society to rise to the challenge and create a cleaner, healthier, smarter world," reads the book's description.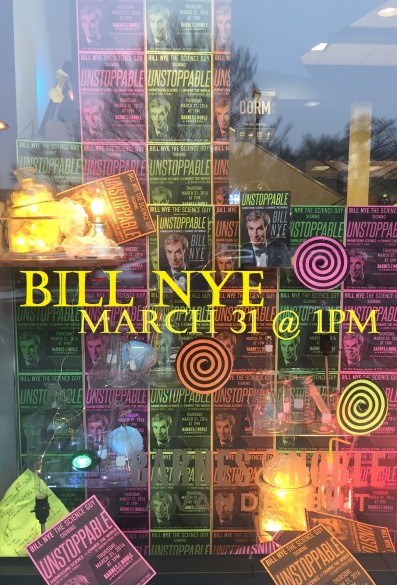 Beginning Sunday, March 13, fans of "The Science Guy" will be able to purchase a copy of Unstoppable from Barnes & Noble at Vanderbilt to receive one of 200 wristbands for entry into the March 31 event.
In anticipation of the event, John Lasiter, communications manager for Barnes & Noble at Vanderbilt, reached out to the Department of Chemistry for help in creating an in-store window display like no other. The result—thanks to Chemistry Storeroom Manager Paulette Lynch—is shown here. "Ms. Lynch was so kind and willing to help that she even insisted on letting us borrow a piece from her personal collection, which is prominently displayed in the window," says Lasiter.
For more information contact John Lasiter, communications manager for Barnes & Noble at Vanderbilt, by email or by phone at (615) 343-2665.