UPDATE 3/20/16: All tickets for the March 21 and 22 Impact Symposium events have been distributed. Walk-ups will be permitted to enter the lecture venues 20 minutes prior to the start of each event.
Vanderbilt University's Impact Symposium, one of the oldest university lecture series of its caliber in the nation, will feature best-selling author Azar Nafisi, Black Lives Matter activist and Teach For America Executive Director Brittany Packnett, Academy Award-nominated filmmaker Spike Lee and former Speaker of the U.S. House of Representatives John Boehner. All will deliver public lectures at Vanderbilt March 21-23.
The theme of this year's symposium is "The Struggle for Success: Is America Dreaming?" It is sponsored by the Vanderbilt University Speakers Committee, an organization of undergraduate students dedicated to bringing innovative, dynamic and thought-provoking speakers to campus in order to challenge and broaden the perspective of the university and Nashville communities.
Nafisi and Packnett will speak on Monday, March 21, in Vanderbilt's Student Life Center ballroom; Lee will speak on Tuesday, March 22, in Langford Auditorium; and Boehner will speak on Wednesday, March 23, in Langford Auditorium. The Monday and Tuesday lectures will begin at 7 p.m. Wednesday's lecture will begin at 6:30 p.m.
Tickets for each night's event are free for Vanderbilt students with a university ID (limit one per student), free for Vanderbilt faculty and staff with a university ID (limit two per person), $10 for the general public and $5 for non-Vanderbilt students with a university ID. Tickets are available at the Sarratt Student Center box office. General public tickets may be purchased at Ticketmaster online.
Nafisi is best known as the author of the national best-seller Reading Lolita in Tehran: A Memoir in Books. The book is a portrait of the Islamic revolution in Iran and how it affected one university professor and her students. It spent more than 117 weeks on The New York Times best-seller list and has been translated into 32 languages. Nafisi is currently the executive director of cultural conversations at the Foreign Policy Institute of Johns Hopkins University's School of Advanced International Studies in Washington, D.C., where she is a professor of aesthetics, culture and literature and teaches courses on the relation between culture and politics. She has lectured and written extensively in English and Persian on the political implications of literature and culture, as well as the human rights of Iranian women and girls and the important role they play in the process of change for pluralism and an open society in Iran. She has been consulted on issues related to Iran and human rights both by policy makers and various human rights organizations. In 2011, she was awarded the Cristóbal Gabarrón Foundation International Thought and Humanities Award for her "determined and courageous defense of human values in Iran and her efforts to create awareness through literature about the situation women face in Islamic society."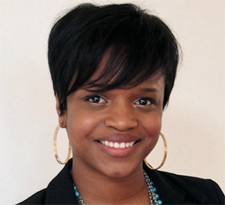 Packnett, the daughter of educators, currently serves as executive director of Teach For America in St. Louis and is a member of The Ferguson Commission, an empowered, independent and diverse group that will study the underlying social and economic conditions underscored by the unrest in the wake of the death of Michael Brown. The commission's charge is to help chart a new path toward healing and positive change for residents in the St. Louis region and to offer best practices to communities across the country. Packnett first joined Teach For America as a 2007 corps member in Washington, D.C., where she taught third grade in Southeast Washington. From there, she served as legislative assistant for her hometown congressman, U.S. Rep. William Lacy Clay of Missouri, advising on education, family policy, and oversight and government reform committee matters. Following her time on Capitol Hill, Packnett served as a director on Teach For America's government affairs team and volunteered as the executive director of Dream Girls DMV, a mentoring program for girls, and as founding co-chair of The Collective-D.C., an organization for Teach For America alumni of color in the region.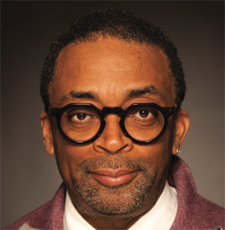 Lee, an American film director, producer, writer and actor, has been called a provocateur and a media icon. As one of the most outspoken African American voices, he has spoken candidly about issues of race in mainstream media and Hollywood. His celebrated body of work and its images of racial division and understanding have ingrained themselves on the popular consciousness for decades. His films include the Academy Award-nominated classic Do the Right Thing; Jungle Fever; Malcolm X; Summer of Sam; When the Levees Broke, his Peabody Award-winning HBO documentary about Hurricane Katrina; and his latest effort, Chi-Raq, a modern-day adaptation of the ancient Greek play Lysistrata by Aristophanes, which is set against the backdrop of gang violence in Chicago. Though born in Atlanta, Lee grew up in Brooklyn, the setting for many of his films. Studying film at NYU's Tisch School of the Arts, Lee made a thesis film, Joe's Bed-Stuy Barbershop: We Cut Heads, which became the first student film ever to be showcased in the Lincoln Center's New Directors New Films Festival. His first feature, She's Gotta Have It, shot on just $175,000, grossed more than $7 million at the box office.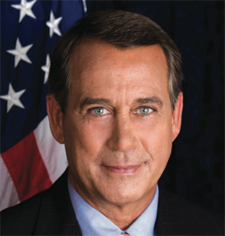 Boehner served as speaker of the United States House of Representatives from January 2011 to October 2015. In 1990, he ran for Congress against incumbent Buz Lukens and won the election. As one of the House's youngest members, Boehner was part of the Gang of Seven, a group of freshmen Republicans who brought attention to corruption in Congress. By exposing scandals like the 1992 House Banking Scandal, the Gang of Seven helped Republicans gain control of Congress in the 1994 elections, and Boehner became a rising Republican star. He made a name for himself in Congress as a social conservative and as a champion of pro-business and small-government policies. In 1996, Boehner helped pass the Freedom to Farm Act, and in 2001 he championed the No Child Left Behind Act. In 2006, he led the drafting of the Pension Protection Act, the most sweeping pension reform in three decades. During the midst of the economic recession that struck in late 2008, Boehner voted to bail out floundering financial institutions with the $700 billion Troubled Asset Relief Program, known as TARP. Although he voted for the bill to head off an economic collapse, he later wrote in a USA Today op-ed that he regretted voting for the bill. In January 2011, Boehner became the speaker of the House, a body dominated by Republicans after their sweep in the 2010 midterm election. Notably, he became the first speaker from Ohio since 1931.
This year's Impact Symposium continues a longstanding tradition at Vanderbilt that began in 1964 when a group of Vanderbilt students saw the need to increase the campus's exposure to current issues by providing a symposium in which intellectually challenging—and sometimes controversial—speakers could be heard.
In 1968, the series passed a milestone when Robert Kennedy drew a record attendance of 16,000 people from more than 100 college delegations across the United States. Kennedy was joined that year by Julian Bond, a leader of the civil rights movement and founding member of the Student Nonviolent Coordinating Committee, along with William F. Buckley Jr., founder of the conservative magazine National Review.
Over the years, Impact programs have brought speakers such as Martin Luther King Jr., George McGovern, Robert McNamara, Jesse Jackson, former presidents Gerald Ford, Jimmy Carter and George H. W. Bush and former British Prime Minister Margaret Thatcher to campus.
For information about the Impact Symposium, call (615) 322-2471 or visit studentorgs.vanderbilt.edu/vpb.