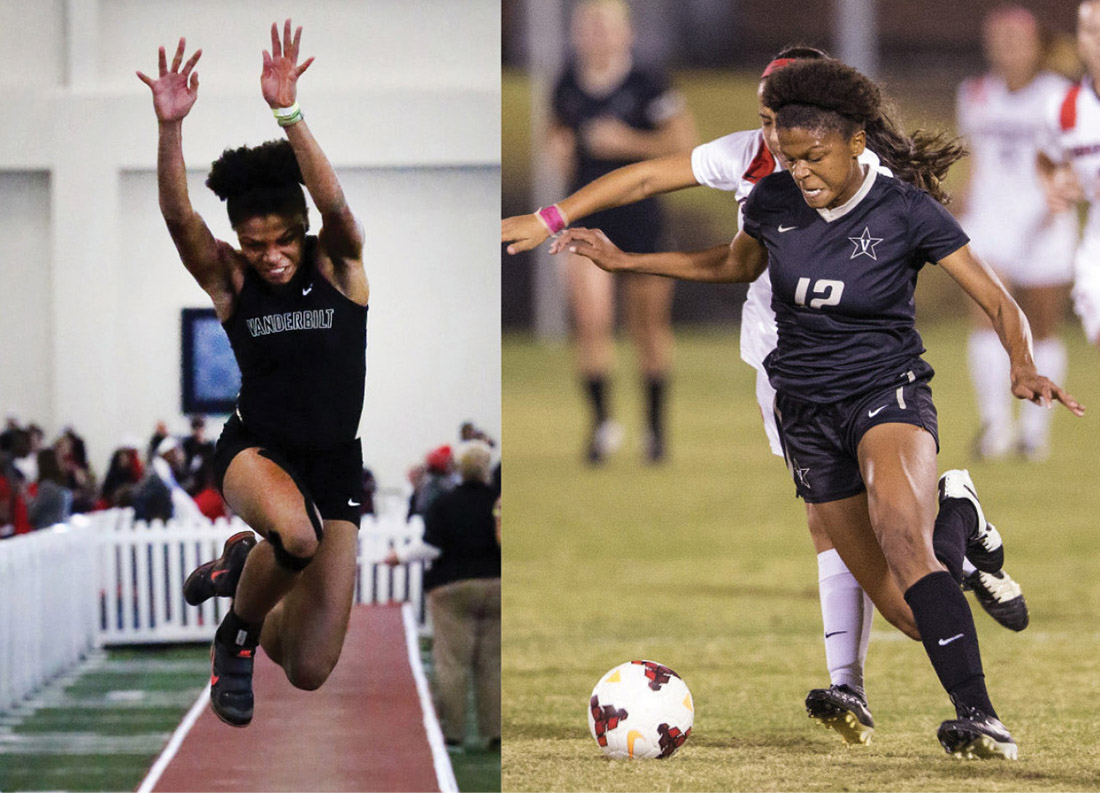 One of her coaches compares her to two-sport icons like Bo Jackson and Deion Sanders. Some folks in Vanderbilt athletics claim she is the best female athlete in school history. Simone Charley, however, isn't interested in such talk.
"I can't accept any of that," says Charley, a second-team All-SEC pick in women's soccer and a two-time first-team All-American in track in the triple-jump. "I am a product of all the people who help me, who push me, who coach me. I have an amazing support system."
Other collegiate athletes play multiple sports, but few—if any—emerge as the best athlete on two teams in a conference as competitive as the SEC.
"The commitment she has to both sports is spectacular," says Darren Ambrose, who completed his first season as women's soccer coach in November. "It's a credit to her that she is able to balance this, and it's not just at any SEC school—it's at Vanderbilt."
Charley, a native of Birmingham, Alabama, and the cousin of former Vanderbilt football player Damien Charley, BS'99, came to Vanderbilt on a soccer scholarship but is even more accomplished in the triple-jump. She finished fourth in the nation at the Indoor NCAA Championships last March and, three months later, followed up with a third-place finish at the Outdoor Championships in Eugene, Oregon.
"She is an unbelievable athlete," says Vanderbilt jumps coach Clark Humphreys. "It's very rare to be able to do what she does. The time demands are incredible. She has to be 'on' for nine months of the year."
Charley, who double majors in psychology and sociology, competes at an elite level in both sports, but it's fair to ask: Would she be even better if she focused on one discipline?
"Obviously, that's something I have thought about, especially when there are certain things I really want to work on," she says. "But I am so blessed to be able to do both here at Vanderbilt. I have such great teammates and coaches. It's a big family—or, really, two families."
---