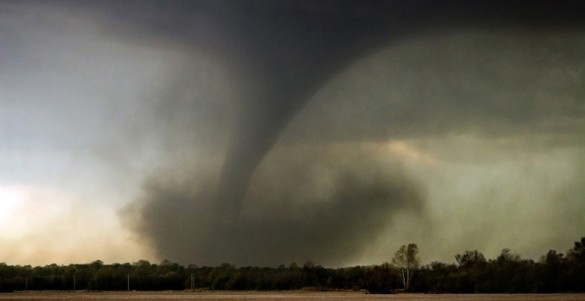 Severe Weather Awareness Week, scheduled Feb. 28–March 5 for Middle Tennessee, is a good time to revisit what to do in the event severe weather threatens the Vanderbilt community.
Historically, the spring months—especially March, April and May—are the most active for severe weather throughout the Southeast. Severe thunderstorms are mainly known for producing tornadoes, but they can also bring large hail and winds at more than 60 mph.
"It's been several years since Nashville has been impacted by a large tornado, so many people have forgotten what to do in the event of severe weather. It's important to have multiple ways to receive weather alerts and to know what to do when you receive them," said Jeff Burrowes, former broadcast meteorologist and Vanderbilt University's emergency preparedness program coordinator.
Vanderbilt Severe Weather Warning System
Vanderbilt contracts with a commercial weather monitoring company to alert the university whenever severe weather is approaching Vanderbilt's main and/or One Hundred Oaks campuses. If a tornado is detected and is forecast to reach either location within 15 minutes, the Vanderbilt Severe Weather Warning System is activated.
Sirens on the main campus will sound, and overhead announcements in Vanderbilt University Medical Center and One Hundred Oaks will notify everyone of the approaching severe weather.
The Vanderbilt siren has a distinctive tone, similar to an air raid siren. Listen to a sound sample of Vanderbilt's electronic sirens.
Metropolitan Nashville/Davidson County also may sound its sirens; however, their sirens are not specific to Vanderbilt and are activated whenever the National Weather Service issues a tornado warning that includes any part of the 526 square miles Davidson County comprises.
AlertVU

Vanderbilt also employs a mass notification system known as "AlertVU" for use during emergencies. It is available free* to students, faculty and staff. AlertVU messages are sent automatically to all Vanderbilt email addresses; however, it is recommended that you have multiple ways to receive emergency notifications. Thus, Vanderbilt community members also may register other email addresses, landlines (for voice calls), and cellphones (for voice calls and text messages) to receive these critical alerts. Information provided by subscribers is private and will not be shared.
To register, update an existing account or find out more, visit Vanderbilt's Emergency Preparedness website.
*There is no charge to receive AlertVU messages. If you choose to receive text messages, however, your cellphone carrier may charge you to receive them.
Desktop Alerts
The AlertVU desktop alert program displays full-screen alerts on workstations and desktops across the university, medical center and One Hundred Oaks campuses. When an AlertVU message is activated, all computer monitors will display the alert and the user must acknowledge the message before being able to continue using the computer.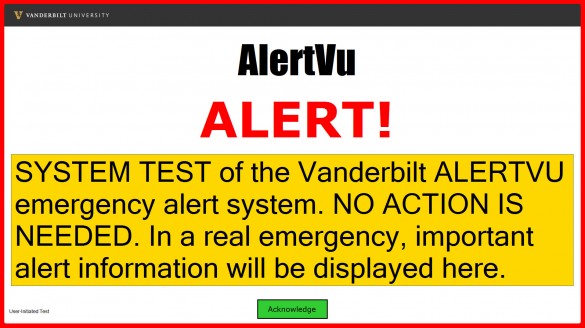 If you are not sure if the desktop alert program has been added to your desktop, have questions, or would like to request the service, contact VUIT at 343-HELP.
The desktop alert software is available for use on your personal computer while you are using the Vanderbilt network. Downloads are available here. The software should not be downloaded to your office PC unless instructed by your desktop team—that will be handled centrally in most areas.
Website and Social Media
Whenever AlertVU is activated, a banner message will appear on the Vanderbilt homepage, www.vanderbilt.edu, stories will be published on the university's News and MyVU websites, and information will be posted to the university's Facebook and Twitter accounts. Follow Vanderbilt on those platforms as an additional way to receive information. The university also will activate its AlertVU emergency website, which is designed to handle a mass influx of simultaneous traffic, and will provide updates there.
Tornado Warnings: What to Do
When an AlertVU is received and/or the tornado sirens on the main campus and the overhead announcements at the Medical Center and One Hundred Oaks campus sound, you should take shelter in the lowest level of the closest building.
Move toward the middle of the building, ensuring you are away from windows. Put as many walls between you and the outside as possible. Look for "Severe Weather Gathering Area" signs or ask where you should go.
Assist people with special needs.
Monitor weather reports.
An AlertVU message will be disseminated once the threat has passed.
For more information about preparing for severe weather as well as other types of emergencies, visit the Emergency Preparedness website.