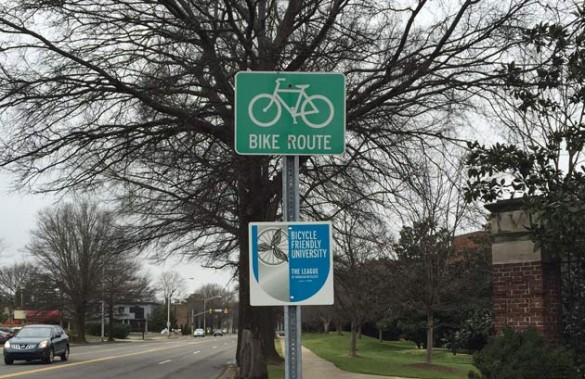 Vanderbilt is now home to a new organization, WalkBike Vanderbilt, which is working to promote a more walkable and bikeable campus.
This spring, WalkBike Vanderbilt invites students, faculty and staff to join in a "policy walk," a bike and pedestrian safety walking tour of campus. The walk will include campus safety and planning officials as well as representatives of Metro Government Public Works and Planning. The policy walk is planned for April, and the date and additional details will be announced at a later time.
In preparation for the walk, the committee has set up an email address—walkbike@vanderbilt.edu—where you may direct suggested areas to include on the tour that are either examples of effective integration of pedestrian and bike safety or that pose problems. You also may sign up to receive notifications from WalkBike Vanderbilt.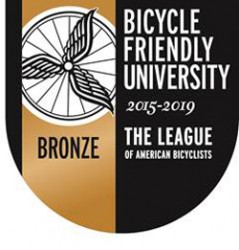 Vanderbilt recently was designated a Bike Friendly University by the League of American Bicyclists. Look for the official BFU signs around campus.
Other committee projects for the spring include:
Planning a bike safety course;
Exploring the possibility for more covered, lockable storage areas for bikes; and
Creating a repair station for bicycles.
In addition, Vanderbilt's Sustainability and Environmental Management Office and Plant Operations collaborated to donate bicycles to the Edgehill Bike Club that were left behind on campus at the end of the 2014 academic year and approved for recycling by the Office of Housing and Residential Education.
Vanderbilt also is home to two Nashville B-cycle kiosks—one on the corner of 21st Avenue South and Wedgewood, and another planned for the park near the intersection of 21st Avenue South and Broadway.
For more information about the locations of bike racks and other important information for bicycle and pedestrian commuters on campus, visit the Vanderbilt Health and Wellness website.
WalkBike Vanderbilt representatives, preceded by the organizations they represent, include:
Faculty Senate – Ray Friedman
Dean of Students – F. Clark Williams
Dean of Students/Residential housing – Jim Kramka
SGA – Jacob Graham and Morgan Franklin
SPEAR – Daniel Shaykevich
VUPD – Capt. Corey Thomas
Landscape Architect/Bike Manager – Robert Waits
Medical Center Staff Advisory Council – Sharon Glover
Vanderbilt Recreation and Wellness Center – Lynn Smith
Medical Center Traffic and Parking – Jack Jakobik
Department of Public Health Policy – Gilbert Gonzales
Center for Nashville Studies – Jennifer Johnston
Community, Neighborhood and Government Relations – Mary Pat Teague
Owen Graduate Students organization – Margaret Flynn
Graduate students – Anthony Siracusa  and Jesse Montgomery
Sustain VU – Chelsea Hamilton