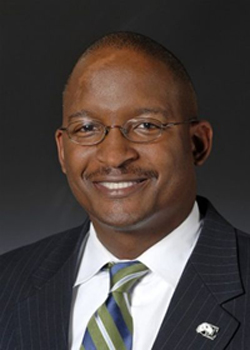 Derrick Gragg, author of 40 Days of Direction: Life Lessons from the Talented Ten and a former member of the Vanderbilt Commodore football team, will speak at the university Friday, Feb. 26, to share his personal experiences as a Vanderbilt undergraduate and the life lessons he has learned that set him on his path today.
Gragg, who is currently vice president and director of athletics at the University of Tulsa, is scheduled to speak from 11:30 a.m. to 12:30 p.m. at the Bishop Joseph Johnson Black Cultural Center at Vanderbilt.
In his book, Gragg and some of his Commodore football teammates discuss their experiences as African American males on a predominately white campus and how those experiences shaped their roles today as fathers, husbands and professionals. The friends and teammates met more than 25 years ago when they came to Vanderbilt to fulfill their dreams of competing in the Southeastern Conference.
The book has been described as a "do's and don'ts" guide or blueprint for young males attending junior high school through college who aspire to be successful, whether it is in college athletics or whatever path they take in life.