Media Inquiries
Latest Stories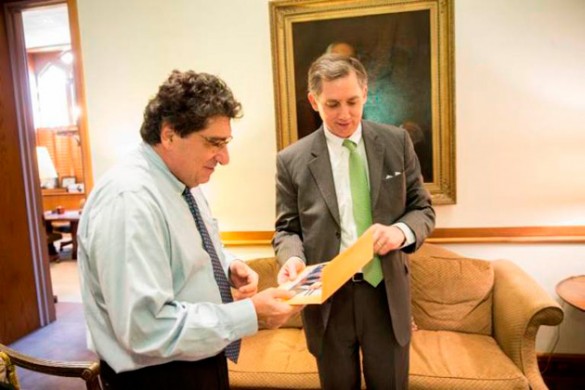 Arkansas Congressman French Hill returned to his alma mater Feb. 19 to speak with students from the Vanderbilt Law School and the Owen Graduate School of Management about his work on the Financial Services Committee and current issues in the banking sector. The congressman also met with Chancellor Nicholas S. Zeppos during his visit.
In an event at the Owen School hosted by Luke Froeb, the William C. Oehmig Professor of Free Enterprise and Entrepreneurship, Hill reflected on how regulations in the banking industry have changed over the past 35 years as well as the impact of the Dodd-Frank Act.
"Our students thoroughly enjoyed hearing Rep. Hill's views on issues that are on the minds of business leaders, such as financial regulation and the economics of health care," said M. Eric Johnson, dean of the Owen Graduate School of Management.
"[rquote]Hosting distinguished guests such as Rep. Hill in intimate classroom settings has become an invaluable part of the Owen School's personal-scale experience," Johnson said.[/rquote]
In a separate address at the law school, more than 60 members of the Law and Business Society heard about "the good, the bad and the ugly" in Washington. In reference to Congress, Hill said most of its members are "good people who know what the problems are and who want to work on them."
Hill's talk was "engaging and accessible," said second-year law student Benjamin Petitto. "I especially found it interesting when Rep. Hill discussed the necessity of politicians working together on Capitol Hill and his concerns about their current inability to do so. I also got a lot out of what he said about finding smaller problems and focusing on solving those in order to make an impact."
Hill is a Republican freshman representative from Arkansas' Second Congressional District. He graduated from Vanderbilt University magna cum laude with a degree in economics. Following his time at Vanderbilt, Hill spent two decades working as an investment manager before serving as a senior official in the George H.W. Bush administration, first as the deputy assistant secretary of the treasury for corporate finance and then as the executive secretary to the President's Economic Policy Council.
He serves on two subcommittees of the House Committee on Financial Services, the Subcommittee on Capital Markets and Government Sponsored Enterprises, and the Subcommittee on Oversight and Investigations.