Black masculinity in popular culture is topic of library forum
by
Jim Patterson
Feb. 24, 2016, 2:48 PM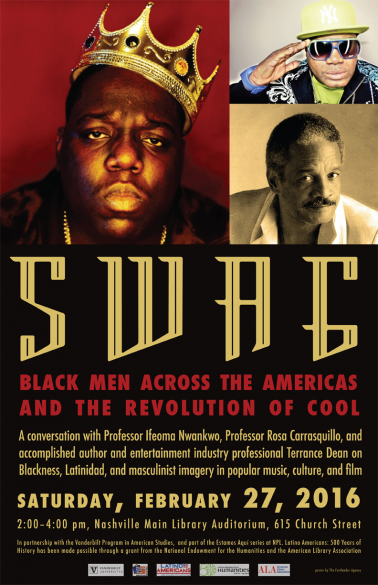 The changing but often linked images of black masculinity, coolness and revolutionary thought in popular culture will be examined during a two-hour forum at Nashville Public Library's Main location, 615 Church St. in downtown Nashville. The public is invited to this free event from 2 to 4 p.m. Saturday, Feb. 27.
"Swag: Black Men Across the Americas and the Revolution of Cool" will feature three distinguished speakers who will consider the impact of images in popular culture from the 1960s to the present. This includes films like Shaft, The Harder They Come and Scarface and the evolution of musical culture such as hip-hop, dancehall reggae and reggaetón. Key figures include Ismael Rivera, Tupac, Notorious BIG, The Sugar Hill Gang, Run DMC, Tego Calderón, Bob Marley, Sean "P Diddy" Combs, 50 Cent and Jay Z.
Panelists:
Rosa Carrasquillo is the author of The People's Poet: Life and Myth of Ismael Rivera, an Afro-Caribbean Icon and Our Landless Patria: Marginal Citizenship and Race in Caguas, Puerto Rico, 1880-1910. She is associate professor of history at the College of the Holy Cross.
Terrance Dean is the author of Reclaim Your Power! A 30-Day Guide to Hope, Healing and Inspiration for Men of Color and Hiding in Hip Hop: On the Down Low in the Entertainment Industry from Music to Hollywood. He is a Ph.D. student in religion at Vanderbilt and was a 2005 John Seigenthaler Journalist Fellow. He also writes a popular advice column on the Bossip.com website.
Ifeoma Kiddoe Nwankwo is the author of Black Cosmopolitanism: Racial Consciousness and Transnational Identity in the Nineteenth-Century Americas, co-editor of Rhythms of the Afro-Atlantic World, editor of "The Panamanian Origins of Reggae en Español: Seeing History through 'Los Ojos Cafe' of Renato" and the director of the Program in American Studies at Vanderbilt University.
In partnership with the Program in American Studies at Vanderbilt, this event is part of the library's Latino Americans: 500 Years of History project and has been made possible through grants from the National Endowment for the Humanities and the American Library Association.