Bogitsh Lecture to explore South Asian interreligious relations
by
Ann Marie Deer Owens
Feb. 19, 2016, 8:56 AM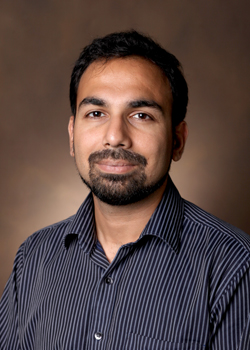 Anand V. Taneja will offer his perspective on interreligious interaction between Muslims and Hindus in South Asia when he delivers the Mafoi Carlisle Bogitsh Memorial Lecture Feb. 25 at Vanderbilt Divinity School.
Taneja, an assistant professor of religious studies at Vanderbilt, will speak at 4 p.m. in the Divinity School Reading Room. His talk is titled "Islamic Saints and Hindu Daughters: Kinship, Ethical Self-Fashioning, and Interreligious Relations at Firoz Shah Kotla Dargah, Delhi."
Taneja earned his doctorate in anthropology from Columbia University. He received a master of arts from Jamia Millia University after earning a bachelor of arts from the University of New Delhi. His research and teaching interests include the anthropology of religion, historical and contemporary Islam and interfaith relations in South Asia, everyday life and postcolonial urbanism, Urdu literature, and Bombay cinema. He is currently working on a book called Time, Islam, Enchantment in the Medieval Ruins of Delhi.
"Relations between religions in South Asia have been seen as marked by either competition or syncretism," Taneja said. "Is there another way of understanding the interreligious interaction? Turning to the interactions between Muslims and Hindus at the popular Muslim saint-shrine of Firoz Shah Kotla in Delhi, I offer another model in this lecture—one of religions opening up new potentialities of ethical life and self-fashioning for the others they interact with, without either 'conversion' or the dilution of doctrinal specificity."
The Mafoi Carlisle Bogitsh Memorial Lecture was established by a gift from Professor Emeritus Burton Bogitsh and his family in honor of Mafoi Carlisle Bogitsh. She grew up as a Baptist in a small farming community in West Texas, where her mother, Una Hooper Carlisle, taught her the principle of religious tolerance.
Mafoi Carlisle studied comparative religion at Baylor University and cultivated a profound interest in various world religions and the cultures from which they arose. This interest grew when she married Burton Bogitsh, a man of Jewish heritage, and both involved themselves with the Unitarian tradition. The Mafoi Carlisle Bogitsh Memorial Lecture honors her lifelong interest in the interplay between culture and religious expression.
Among those who have delivered past Bogitsh lectures are Sharon M.K. Kugler, Lenn Goodman, Richard Haglund, James Lawson Jr. and John McClure.
For more information, email Sha'Tika Brown or call (615) 936-8453.