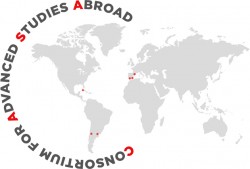 Vanderbilt University has joined the Consortium for Advanced Studies Abroad (CASA) along with eight other leading institutions with the goal of establishing high-quality study abroad programs across the world.
Vanderbilt's partners in the consortium, which was initiated in 2014, include Brown University, Columbia University, Cornell University, Dartmouth College, Harvard University, Johns Hopkins University, Northwestern University and the University of Pennsylvania.
"Vanderbilt is delighted to work with our colleagues in CASA to collaboratively develop a new generation of study abroad centers," said Cynthia Cyrus, Vanderbilt vice provost for learning and residential affairs. "We look forward to offering our students and faculty opportunities to interact not only with their counterparts from CASA schools, but also with distinguished international partners."
CASA establishes a fully operational physical presence in each host country, led by a permanent on-site director and support staff. The CASA model emphasizes long-term planning and investment, and each of these divisional centers is governed by an executive committee composed of international administrators and leading faculty from CASA's member institutions.
In addition to multidisciplinary programs and coursework designed and taught by CASA members, students and faculty will have the opportunity to interact with select international institutions. Wherever possible, students from consortium schools will study alongside local students. A wide range of potential activities at CASA sites, such as internships, community engagement and undergraduate research, are expected to further the Immersion Vanderbilt strategic initiative in Vanderbilt's Academic Strategic Plan.
Vanderbilt students are expected to begin enrolling in CASA programs during the fall 2016 semester.