Media Inquiries
Latest Stories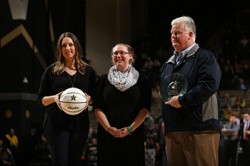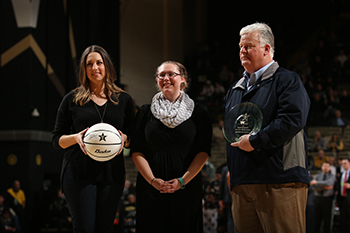 The lab of Maulik Patel, assistant professor of biological sciences and cell and developmental biology, has been named winner of the 2016 Vanderbilt Basketball Sustainability Competition.
The lab's staff celebrated its title of "greenest group on campus" at the Vanderbilt–Missouri game Feb. 10 with a catered hospitality event, tickets to the game, an autographed basketball from Coach Stallings, and an on-court award ceremony during the game. Accepting the award on behalf of the lab was Sarah Sturgeon.
The sustainability competition—presented by Waste Management, Vanderbilt Athletics, and the Sustainability and Environmental Management Office (SEMO)—invited all Vanderbilt groups, teams, departments, classes and campus organizations to compete for the title of "greenest group on campus" by detailing the sustainable actions they routinely implement to reduce, reuse or recycle; to save energy or water; to use mass transit and alternative transportation options; or to promote any other innovative sustainability programs within their organizations.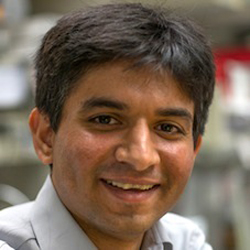 Patel's lab group was recognized for its recycling efforts, which include recycling all pipet tip boxes. The lab also purchases products with post-consumer content and uses reusable mugs, utensils and food-storage items. The lab uses the smallest refrigerator possible for its lab size and also conserves energy by turning off lab and other equipment whenever possible.
For more information about the research of Patel's lab, visit its website. Learn more about Waste Management and how they encourage us to "Think Green" on their website. For more information about SEMO or how you can participate in future sustainability competitions, visit the SustainVU website or email sustainvu@vanderbilt.edu.
Contact: Sustainability and Environmental Management Office
sustainvu@vanderbilt.edu; (615) 322-9022