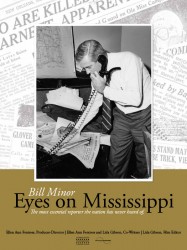 An unsung hero of the civil rights movement is celebrated in the new documentary Eyes on Mississippi, which will have its Nashville premiere Thursday, February 25.
The 66-minute film will be screened at 6 p.m. at the John Seigenthaler Center on the Vanderbilt University campus at 1207 18th Ave. S. It tells the story of reporter Bill Minor, whose work during the civil rights era was influential. In addition to covering Mississippi for New Orleans' The Times-Picayune, he reported on the civil rights movement for Newsweek and The New York Times. He also assisted many other reporters who traveled to the South to cover civil rights with contacts and advice.
The screening is free and open to the public. A reception will precede the event at 5:30 p.m. Ellen Ann Fentress, producer, director and co-writer of Eyes on Mississippi, will introduce the film and lead a short discussion after it concludes.
"The title Eyes on Mississippi has two meanings," Fentress said. "It was the name of Bill's long-time column, but it also was his strategy. He thought the fastest route to change was to get the unvarnished facts of the struggle out. The more eyes on Mississippi, the more the pressure for transformation."
The film draws on 40 hours of interviews with Minor, who still writes a newspaper column for the The Clarion-Ledger at 93.
Eyes on Mississippi, co-written and edited by Lida Gibson, also features interviews with attorney John Doar, winner of the Presidential Medal of Freedom; Claude Sitton of The New York Times; civil rights leaders Myrlie Evers-Williams and Dr. Robert Smith; William Winter, former governor of Mississippi; journalist Hank Klibanoff, winner of the Pulitzer Prize; and The Times-Picayune former editor Jim Amoss.
For further information about the Nashville screening, contact Fentress at info@ellenannfentress.com or the John Seigenthaler Center at 615-727-1304.