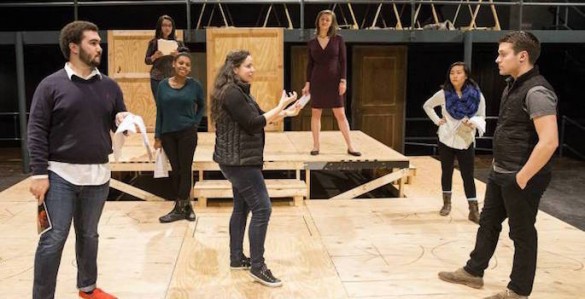 Vanderbilt Department of Theatre, in partnership with Sojourn Theatre and the Center for Performance and Civic Practice, will offer an interactive show that challenges the Nashville community to respond to local poverty.
How to End Poverty in 90 Minutes (with 179 People You May or May Not Know) will take place in Neely Auditorium at 8 p.m. Feb. 24-27 and at 2 p.m. Feb. 28. The audience is encouraged to come 30 minutes early at each performance for pre-show engagement activities. Participating students have produced a video about the project.
Leah Lowe, professor and chair of the Department of Theatre, worked with Michael Rohd, founding artistic director of Sojourn Theatre, to bring the production to Vanderbilt after she took part in an intensive Sojourn workshop. The award-winning professional ensemble theatre company is noted for its arts-based civic dialogue.
"Nashville is just booming," Lowe said. "However, our local leadership has started discussions about who gets left behind as our city adjusts to all this explosive growth. This production offers audience members the chance to learn and to shape the response."
Students and community experts will come together to explore the impact of poverty and to consider different approaches to addressing a very complex problem. Throughout the performance, audience members are in dialogue with each other and with the performers.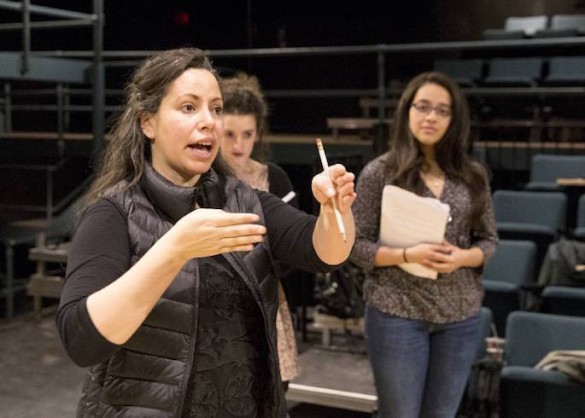 An unusual aspect of the production is that $1,000 from ticket sales will be donated after each performance to a Nashville nonprofit organization. "The money will be placed in a large money ball and then raised into the air to remain a constant presence during the performance and dialogue," said Phillip Franck, associate professor of theatre and the set designer. "Audience members can vote on one of five approaches to ending Nashville poverty that our students have researched in consultation with Sojourn Theatre. Then an area nonprofit that exemplifies the approach selected by the audience will receive the $1,000."
Examples of approaches to ending poverty include education, resources to fulfill daily needs, systems change, creation of opportunity, and direct assistance. Lowe noted that the student cast is working hard to customize the theatrical piece for Nashville's audience. For example, Jyoti Gupta, a doctoral student in Peabody College's Department of Human and Organizational Development, is researching local nonprofits that address poverty issues and recruiting community leaders for cameo roles to help inform the audience on current issues.
"Many Vanderbilt students are passionate about service learning and our cast represents a variety of disciplines and majors across campus," Lowe said. "We are grateful our students can learn about this type of theatrical piece with Rebecca Martinez, a member of Sojourn Theatre who is serving as production director. The production includes vignettes, personal testimonies and opinions from a diverse group of experts."
One of the production's co-sponsors is Project Dialogue, a program created in 1989 to engage the Vanderbilt community in public discourse and to connect classroom learning with larger societal issues. Other co-sponsors include the Curb Center for Art, Enterprise and Public Policy; the EOS Environmental Project; the Robert Penn Warren Center for the Humanities; the Departments of Art and History of Art; and the Cinema and Media Arts Program.
General admission for How to End Poverty in 90 Minutes (with 179 People You May or May Not Know) is $15. There are reduced prices for students. Reserve tickets here, or pick them up at the Sarratt Box Office.