Media Inquiries
Latest Stories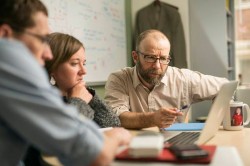 The Office of the Provost is soliciting campus feedback on three proposals under consideration for selection as Vanderbilt's 2017 Quality Enhancement Plan (QEP). The QEP is focused on Immersion Vanderbilt and will serve as a critical piece of the university's reaffirmation of accreditation by the Southern Association of Colleges and Schools Commission on Colleges (SACSCOC).
The proposals were authored by representative subcommittees of students, faculty and staff after an idea-generating phase initiated by Provost Susan R. Wente in September 2015. Each proposal presents a vision of how students can engage in immersive experiences at Vanderbilt University. They are as follows:
The proposals are available online via the Immersion Vanderbilt QEP website, where campus constituents are encouraged to review the proposals and submit comments and feedback. Campus members also are invited to attend the QEP Town Hall meeting on Feb. 29 at 5 p.m. in the Jean and Alexander Heard Library Community Room, during which members of the QEP subcommittees will share and discuss their ideas.
Feedback on the proposals will be collected throughout the month of February, after which the Immersion Vanderbilt QEP Selection Committee, chaired by Vice Provost Cynthia J. Cyrus, will submit an official report and recommendation to Wente. The QEP topic will be selected in March 2016 and will launch in August 2017.
"Each of the three Quality Enhancement Plan proposals represents a unique opportunity to advance student learning in a uniquely Vanderbilt context," Cyrus said. "I am delighted that the three proposals take into consideration the needs of students as well as the strategic priorities of the university."
Feedback on the three proposals also may be submitted directly to Cyrus at vpcyrus@vanderbilt.edu.