Media Inquiries
Latest Stories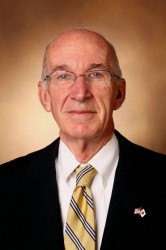 James E. Auer, senior lecturer in Asian Studies, emeritus, has received the prestigious Seiron Taisho (Sound Argument) award from the Sankei Shimbun Japanese newspaper.
Auer, who is director of the James E. Auer U.S.-Japan Center, will be honored in Tokyo March 7 for his strong efforts to promote liberty and democracy.
"Japan has changed my life both professionally and personally, and I am grateful to so many people in Japan who have taught me so much and treated my family and me so kindly," Auer said. "I sincerely thank the Sankei Shimbun for such a great honor."
Auer is a longtime contributor to the Sankei Shimbun, which he praised for its "rock-solid support of the Japan-U.S. alliance." He is the 31st recipient of this annual award and the first non-Japanese citizen to receive it.
Auer founded the Center for U.S.-Japan Studies and Cooperation at Vanderbilt in 1988. Before coming to Nashville, he served as a naval officer for 20 years, commanding a frigate home-ported in Japan, and was the special assistant for Japan in the Office of the Secretary of Defense.
For almost three decades, the center has promoted cooperation between the two countries in the areas of economics, national security and technology, including hosting more than 100 Japanese research fellows over the years who went on to assume important positions in the Japanese civil service, politics, military and mass media.
Auer has taught the history of sea power, mostly to students in the Naval ROTC program at Vanderbilt, and still teaches current U.S.-Japan relations in the Asian Studies Program.