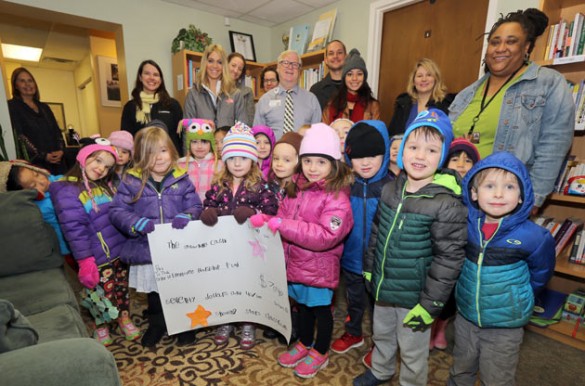 The Shooting Stars, a pre-K class at the Vanderbilt Child and Family Center's Edgehill child care location, presented a donation to Work/Life Connections–Employee Assistance Program manager Jim Kendall on Wednesday. The donation was the result of a monthlong student-driven project to make and sell paper snowflakes that early childhood educators Courtney Campbell and Tonya Byrns turned into an economics lesson teaching the children the principles of operating a small business.
After receiving a small loan for materials, the students cut out and decorated the snowflakes, established a price, created a store name as well as posters and flyers to market their product, then sold the snowflakes to parents, collecting and counting the money they earned. The students' initial goal was to earn enough money to fund a class pizza party.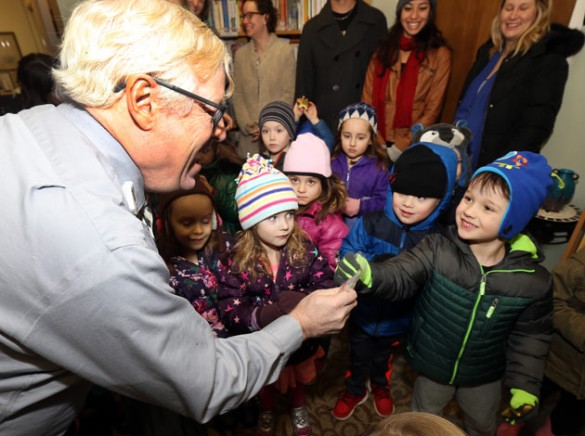 The snowflake sale yielded a profit of $110—enough to pay for pizza for the class and all of the teaching staff at the Edgehill center, with money left over. After brainstorming ideas of what to do with the remaining funds, the students decided to make a donation to the Faculty and Staff Hardship Fund, which provides assistance to qualifying faculty and staff who are experiencing a temporary hardship due to a significant life event.
Shooting Stars students, instructors, parents and Edgehill staff walked to the Medical Arts Building, home of Work/Life Conections–EAP, to present the donation Jan. 27.