Media Inquiries
Latest Stories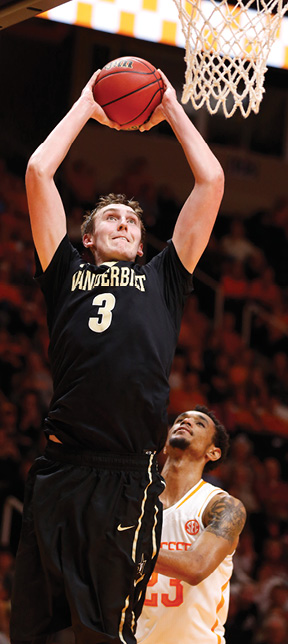 Luke Kornet was the ideal college basketball prospect.
At 6 feet 7 inches and still growing, the high school senior was tall. Living in the Dallas–Fort Worth area—a region that gets plenty of attention from recruiters—he averaged 15 points and eight rebounds per game. He was a top student. And, to top it off, he was the son of Frank Kornet, BA'89, a Vanderbilt basketball standout and former NBA player.
And yet Kornet, now one of the top players in the SEC and himself a likely NBA pick, finished his senior season at Liberty Christian School without a single scholarship offer. "A lot of guys slip through the cracks," says Jeff Borzello, a recruiting analyst for ESPN.com. "But rarely to this extreme. Luke had no offers. He wasn't even a mid-major prospect. No school wanted him."
As his senior year drew to a close, Kornet had all but abandoned the idea of playing college basketball and was set to enroll in the fall at nearby Southern Methodist University.
"I hadn't even looked at walking onto SMU's basketball team," says Kornet, now a Vanderbilt junior majoring in computer science. "I guess the plan was to figure out when they had tryouts and show up for that. I was just getting ready to go to school there because I got some financial aid for academics."
Then, late in the spring of 2013—when nearly all Division I basketball prospects had already signed scholarship papers—Luke joined an Amateur Athletic Union team comprised primarily of high school juniors. Typically, college coaches look to AAU teams for top recruits.
"We went to a tournament in Little Rock, Arkansas, and Luke played very well, even though he basically hadn't picked up a basketball in six weeks," Frank says.
Scouts who attended the tournament noted Kornet's skills (and height), relaying the news to coaches that this talented senior was still unsigned. "Word got out, and a bunch of coaches started calling me," Frank recalls. "My phone was ringing off the hook."
The next weekend Kornet played in a tournament in Minnesota that was attended by more than 100 college coaches, including Vanderbilt's Kevin Stallings. "We watched him and were very impressed," Stallings says. "I called Frank and said we were serious about him."
Kornet received offers from other places, like Kansas State, Purdue and TCU, but he canceled those official visits after spending two days at Vanderbilt, where his mom, Tracy, also attended.
"Luke always liked Vanderbilt," Frank says. "He told me, 'Dad, I've always wanted to go to school there, and now they want me. Why am I even thinking about this?' So we called Coach Stallings and told him Luke wanted to play at Vanderbilt."
Three years later, Kornet's height tops 7 feet and he continues to improve on the basketball court. His scoring average more than doubled from 4.0 points per game as a freshman to 8.7 as a sophomore. In the glowing preseason press that the men's basketball team received in the fall, Kornet was cited consistently among a handful of players to watch this year. True to that prediction, he has emerged as one of the nation's top shot-blockers during his junior season. In January he became the second Commodore ever to record a triple-double when he had 11 points, 11 rebounds, and a single-game school-record 10 blocks in a 75–57 win over Auburn.
"I've always wanted to play in the NBA, but going into college I never thought it was a possibility," Kornet says. "But now that it's slowly started to materialize, it's pretty cool."
—MITCH LIGHT
---