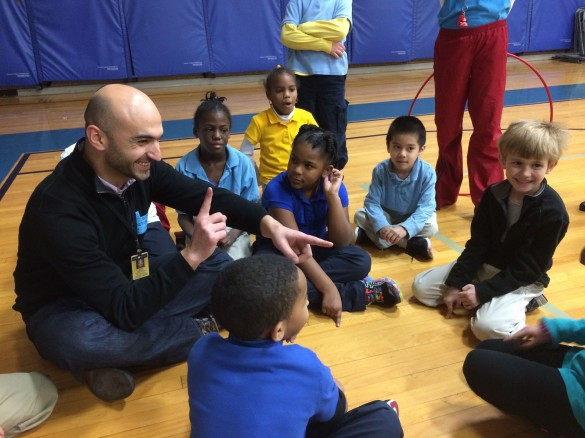 Educators from far-flung lands will share their favorite childhood games, sports, stories and songs with Eakin Elementary School students Jan. 26-29, 2016.
The international scholars are half-way through a year-long fellowship at Vanderbilt's Peabody College of education and human development through the Hubert H. Humphrey Fellowship Program, a Fulbright Exchange program. This year's fellows hail from China, Cŏte D'Ivoire, Iran, Myanmar, Nigeria, Pakistan, Papua New Guinea and Uruguay.
The Humphrey Fellows' visits to Eakin have become an annual tradition. Eakin is a multi-cultural and highly diverse K-4 school located near Vanderbilt University. Forty-one countries are represented in the student population, and more than a dozen languages are spoken there.
The Humphrey Fellows will interact with Eakin students through two events:
Global Games
Third- and fourth-grade classes will participate in Global Games, in which they will spend 30 minutes learning to play a fellow's favorite childhood game or sport.
Passport Fair
Kindergarten through second grade will take part in an international Passport Fair, where fellows will tell a folktale, teach students to write their name in another language, or share a game or song. Students will receive stamps on their homemade "passports" for each activity.
The Humphrey Fellows are professionals in education, community service and public policy from around the world. For many it is their first visit to the United States. During their year at Vanderbilt they will interact with local education and government leaders, participate in site visits, hear guest speakers, share their culture with school children and take part in community service projects.
Watch a video about the Humphrey Fellows at Vanderbilt.
Follow the Humphrey Fellows on Facebook.
Follow the Fellows on Twitter @Vanderbilt HHH