Media Inquiries
Latest Stories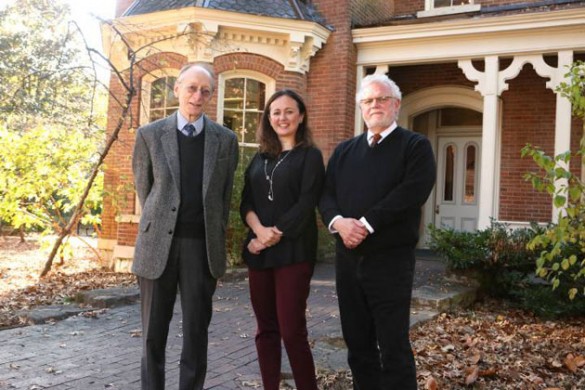 Juan Cole, a historian and prominent blogger on the Middle East, led off a Vanderbilt University series of public talks on Islam Jan. 27.
Cole, the Richard P. Mitchell Collegiate Professor of History at the University of Michigan, discussed "Iran in Syria: Ideology or Pragmatism?" at the Kissam Center. Cole runs the blog Informed Comment: Thoughts on the Middle East, History and Religion. He lived in various areas of the Muslim world for nearly 10 years and continues to travel there. He is a frequent commentator on topics that include al-Qaeda and the Taliban, the Iraq War, the politics of Pakistan and Afghanistan, and Iranian domestic struggles and foreign affairs. Cole's books include The New Arabs: How the Millennial Generation is Changing the Middle East (Simon & Schuster, June 2014) and Engaging the Muslim World (Palgrave Macmillan, March 2009, rev. 2010).
The five talks in this series are being held in conjunction with the 2015-16 Andrew W. Mellon John E. Sawyer Seminar, "Where the Fringe Dwarfs the Center: Vernacular Islam Beyond the Arab World." Faculty members across a wide variety of academic disciplines have been meeting weekly at the Robert Penn Warren Center for the Humanities on the Vanderbilt campus.
Samira Sheikh, associate professor of history and a seminar co-director, said that Vanderbilt has a significant number of scholars who study Islam in many different parts of the world. "We wanted to bring together interested faculty, graduate students and outside experts to think about the relationship between what we call the fringe—the vast majority of Muslims who live outside the Arabic-speaking countries—and the smaller-populated so-called center of Islam, such as Arabia and the holy cities."
Sheikh noted that the largest number of Muslims live in India, Pakistan and Indonesia. In addition, Nigeria is the African nation with the largest number of Muslims. "[rquote]Most Muslims don't speak Arabic and don't live in Arab countries," she said.[/rquote] "One of the issues that we are exploring is the relationship of these Muslims with the so-called 'center,' or at least what some scholars and believers consider the 'center' of Islam to be."
Naveeda Khan, associate professor of anthropology at Johns Hopkins University, will speak at 4:10 p.m. Feb. 3 in Buttrick Hall, Room 123. She is the author of Muslim Becoming: Aspiration and Skepticism in Pakistan (Duke University Press and Orient Blackswan [India], 2012). She also served as editor for Beyond Crisis: Re-evaluating Pakistan (Routledge India/UK, 2010), a book that brought together 19 rising scholars of Pakistan within the social sciences and humanities to explore what it is to live with or refuse the designation of crisis.
Moses Ochonu, a professor of history at Vanderbilt, will discuss "Boko Haram and Radical Islamism in the West African Sahel: A Biography," at 4:10 p.m. March 2. His talk will be in the Kissam Center, Room 216. Ochonu is the author of Africa in Fragments: Essays on Nigeria, Africa and Global Africanity (New York: Diasporic Africa Press, 2014), a collection of analytical essays on a variety of questions relating to Nigeria, Africa and global African communities. Topics include the challenges of democracy in Africa, postcolonial African migration to the West, relations between Africans and African immigrants in the United States, and African Islam and Islamic extremism.
Brian Larkin, the Tow Associate Professor for Distinguished Scholars at Barnard College and an expert on ethnography and history of media in Nigeria, will speak March 16 at 4:10 p.m. The campus location will be announced later. Larkin is the author of Signal and Noise: Media Infrastructure and Urban Culture in Nigeria (Duke University Press, 2008). He is currently working on a book that analyzes the role that media play in the rise of new Islamic movements in Nigeria and explores theoretical questions about technology and religion.
Faisal Devji, the University Reader in Modern South Asian History at the University of Oxford, will speak April 13 on "ISIS: Sincerity and Slaughter." His talk will be at 4:10 p.m. in the Kissam Center, Room 216. Devji, who serves as director of Oxford's St. Antony's College Asian Studies Centre, has strong interests in Indian political thought as well as that of modern Islam. His broader concerns have to do with ethics and violence in a globalized world. His books include Muslim Zion: Pakistan as a Political Idea (Harvard University Press, 2013) and The Impossible Indian: Gandhi and the Temptation of Violence (Harvard University Press, 2012).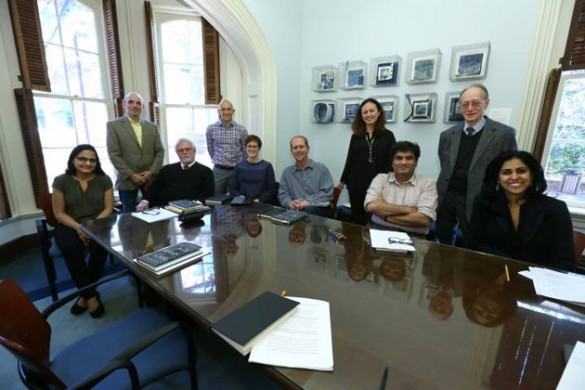 The Sawyer Seminar on Islam grew out of an earlier collaboration of College of Arts and Science faculty, according to Tony K. Stewart, Gertrude Conaway Vanderbilt Professor in the Humanities and a seminar co-director. "With support from the Fant Fund, we held a series of workshops on themes challenging the notion of Islamic exceptionalism," he said. "Islam is often portrayed in the media as a kind of monolithic entity that stands completely alone and apart from its environment. We argue that no matter where Islam is, it's affected by its geographic environment, its linguistic environment, its ethnic environment, and its religious environment." Stewart, who is also a professor of religious studies and Asian studies, noted that last year's workshops were building blocks for future initiatives, including a fall 2016 conference that will be open to the public.
"One of our goals is to inspire more of our students to take Vanderbilt classes related to Islam and to focus their studies in this direction," said David J. Wasserstein, professor of history, Eugene Greener Professor of Jewish studies, professor of classics and a seminar co-director. "Although Vanderbilt does not have a specific program or center on Islam, we have a significant number of professors teaching and writing on these issues. We hope the greater community will want to learn more as well."
Members of the Sawyer Seminar took part in a panel discussion called "Understanding Islam" during last fall's Southern Festival of Books. In addition, faculty members have given talks at the Frist Center for the Visual Arts in conjunction with an exhibition of Islamic art from the Boston Museum of Fine Arts.
For more information on the public talks and the Sawyer Seminar, email the Robert Penn Warren Center for the Humanities or call 615-343-6060.