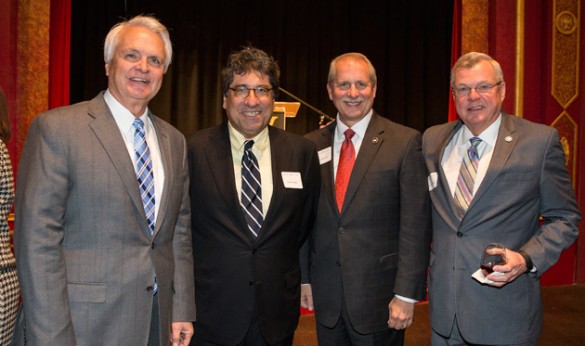 Vanderbilt hosted a reception Jan. 19 to honor the members of the 109th General Assembly. State legislators, staff members and other state government officials mingled with Vanderbilt representatives during the evening event at the Tennessee State Museum.
Chancellor Nicholas S. Zeppos provided a welcome, and House Speaker Beth Harwell, R-Nashville, who earned her M.S. and Ph.D. from Vanderbilt, and Lt. Gov. Ron Ramsey, R-Blountville, made brief remarks thanking Vanderbilt for its contributions to the state of Tennessee.
Among the Vanderbilt officials attending, in addition to the chancellor, were Vice Chancellor for Public Affairs Beth Fortune; Deputy Vice Chancellor for Health Affairs C. Wright Pinson; Luke Gregory, chief executive officer, Monroe Carell Jr. Children's Hospital at Vanderbilt; Philippe Fauchet, dean of the School of Engineering; and Assistant Vice Chancellor for State Government Relations Nathan Green.