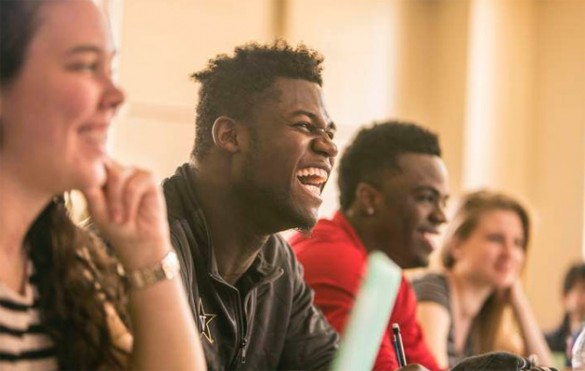 Vanderbilt posted its highest percentage ever for diversifying the entering freshman class in the just-released annual survey of the Journal of Blacks in Higher Education.
In the JBHE survey of the nation's leading research universities released last week, Vanderbilt tied for fifth with Emory University for having 10.8 percent of its first-year class identify as black. In the last 10 years, Vanderbilt has ranked between fourth and tenth in the survey. The JBHE surveys admissions offices of the nation's highest-ranked research universities to calculate and compare the percentages of black and African American students in the entering class.
"Slightly more than a decade ago in 2004, only two of the nation's highest-ranked universities had incoming classes that were more than 10 percent black," the Journal wrote in announcing the survey results. "This year there are eight high-ranked universities with an entering class that is more than 10 percent black. This is a major sign of progress for African Americans at our top universities."
Columbia took the top spot with 12.4 percent of its entering class identifying as black, marking the ninth year in a row that Columbia has led this ranking. Stanford was second with 11 percent, and Harvard and Yale tied for third with 10.9 percent. The Journal noted that just 0.8 of a percentage point separates No. 2 Stanford from No. 8 Penn.
Note: JBHE uses a different methodology than the U.S. Department of Education to determine its rankings. The Journal includes all students who "self-identify as having African American or African heritage, including those who are actually from Africa." The Department of Education changed its criteria several years ago and no longer includes students who self-identify as biracial or multiracial with some level of African heritage as black.