Media Inquiries
Latest Stories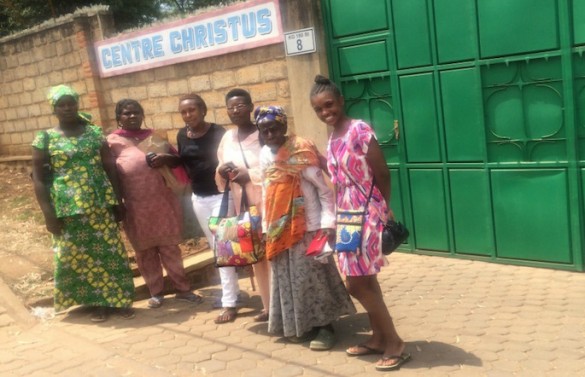 Researching how women in the African Diaspora are overcoming economic oppression, seeking agricultural justice in Kenya, and exploring faith community responses to climate change in Appalachia are among the Vanderbilt Divinity School student-generated projects funded with Imagination Grants in 2015.
Other projects worked to dispel the stigmas of HIV/AIDS in South Africa, learn the spiritual and cultural importance of the Spanish flamenco for a documentary and film project, archive second-generation Holocaust survivors' postmemories of home and faith, and explore the impact of religious colonialism on the indigenous Maya population in Yucatán, Mexico.
"These grants, which our students typically use during the summer, seek to advance global learning, theological reflection and leadership skills," said Graham Reside, assistant professor of ethics and director of global education at the Divinity School. "[rquote]Students do not receive academic credit but there is a focus on experiential learning that can be life-changing."[/rquote]
Students are encouraged to include a global dimension to their self-directed work.
"My project focused on women, faith and cooperative development in the African Diaspora," said Shakiya Canty, a third-year master of divinity candidate from West Philadelphia, Pennsylvania. "Many of these women lost their husbands and larger families during the Rwandan genocide. With the assistance of the Regina Pacis Catholic Parish and PICO (People Improving Community through Organizing)-Rwanda, the women have been striving to develop cooperative businesses to sustain themselves in the aftermath of tragedy." PICO is a faith-based organizing network.
Canty has strong interests in community organizing and economic alternatives that consider cooperative models, promote self- and communal determination, and work to eliminate poverty, She traveled to Rwanda last summer to interview women who received business training, microfinance education and other forms of support from PICO-trained faith leaders. "This was a huge learning experience, as I had to readjust prior (Western) knowledge and immerse myself in a new way of learning about cooperative development in the context of deep poverty," Canty said. "Above all, I walked away feeling empowered by their drives to create and recreate for the community out of nothingness. This is a drive that I can trace matrilineally in my own family."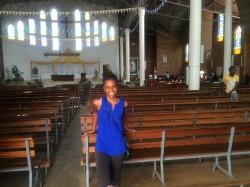 Canty will go to Jackson, Mississippi, this semester to interview black women connected to a network of cooperatives initiated by the city for a sustainable alternative economy. She plans to interview Muslim as well as Christian women. Eventually, she will compile her findings into a narrative that she will share with the respective communities in Rwanda and Mississippi that she visited as well as her own   community in Philadelphia. She hopes one day to open an Organizing Center for Education and Research in her hometown.
One of the requirements for Imagination Grant recipients is to share his or her experience upon return to the Divinity School.
Chelsey Overstreet Hedglin, who is a second-year master of divinity student, wrote for the VDS Voices blog on "Community Engagement and Religion in Yaxhachen, Yucatán, Mexico." Meanwhile, Kate Fields, a third-year master of divinity candidate, wrote on the Appalachian region, specifically faith responses to climate changes in that region of the United States. She had previously spent seven weeks studying the effects of climate change on the South Pacific/Oceania by way of Fiji.
Other recipients of Imagination Grants in 2015 were James Wesley Dennis III, a third-year master of divinity candidate; Aki Collins, a second-year master of theological studies candidate; Lucas Wilson, who received his master of theological studies summer 2015; and Jacob Abell, who also received his master of theological studies summer 2015. .
The Imagination Grants are funded by an anonymous donor. Students can request amounts ranging from $250 to $2,500. The deadline to apply for summer 2016 is Feb. 15. For more information, email Graham Reside.