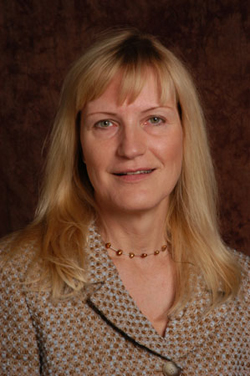 Barb Carroll is Vanderbilt University's new chief HR officer. Her appointment to the associate vice chancellor position, newly created due to the upcoming separation of Vanderbilt University and Vanderbilt University Medical Center, brings her back to her alma mater and the place where her HR career began. MyVU sat down with Carroll last week, her first week on the job, to ask her five questions.
How does it feel to be back at Vanderbilt?
I was here for more than 15 years early in my career, so this feels like home to me. I have to say, though, the vibe on campus seems different now—it all feels very lively; there's so much going on. People are really engaged and involved, and the senior leadership group is very progressive and forward-thinking. It's going to be fun to dig in and work with staff, faculty and campus leaders.
How will the upcoming VU-VUMC legal separation impact HR?
We're always going to be connected to the Medical Center by our shared history and missions. We're never going to not care about each other. But going forward, it will be different. The legal separation creates a unique opportunity to think about Vanderbilt University 2.0. In some ways, we get a clean slate, and we can ask questions like: What would a great HR function look like for the university? How does HR help the university be awesome?
An early initiative is to identify any quick wins that we could do now. I'm meeting with stakeholders across campus to get a sense of what works well now, what might need attention, and what creative ideas we might explore. I'm already getting emails from faculty members, staff and even retirees with ideas they are interested in. I want to hear those ideas. And we can dream big, but of course we need to balance our vision with what our resources can support.
Does Nashville's "It City" status impact Vanderbilt?
We have the benefits and the challenges of Nashville's success. When I was here before, Vanderbilt was the big-dog employer in town and the best people just naturally gravitated here to work. Now there are other strong employers of knowledge-based employees here. We have to stay competitive and be a good and desirable employer. We faced many of the same challenges at NC State because Raleigh is part of the Research Triangle region. It's a great problem to have—to be in a thriving area full of smart people.
You've been involved with higher ed HR issues on the national level through your work with CUPA-HR. As the national board chair, what trends are you seeing?
Because of the general stalemate in Congress, we're seeing that most of the action is occurring at the federal regulatory level—at the departments of Labor and Treasury, for example—and through presidential executive orders. Workforce issues that are on the radar for colleges and universities nationally include the impact of the Affordable Care Act and proposed changes to the administration of the Fair Labor Standards Act. I have been able to be involved in these public policy areas, which affect all employers in some ways, but which have special considerations for higher education.
Also, the very nature of work has changed in the United States. The industrial model is largely gone, and we have become a service and knowledge workforce, with more jobs in the service and support sectors and more in the highly complex STEM-related fields. Vanderbilt, like a lot of major universities, is essentially a city within a city, with all the jobs that exist in a city, so we need employees who represent a lot of different portfolios of work. We are thinking about the jobs on campus with a future view and about what skill sets our employees will need five years from now.
Was your career goal to work in HR?
I had no idea I wanted to do HR. I was working as a departmental business officer for the psychology and human development graduate program at Peabody. I became chair of the University Staff Advisory Council, and in that role I interacted with the chief HR person at Vanderbilt at the time, Clint Davidson. He recruited me into employee relations. Identifying potential HR people was apparently one of his talents, because there are a number of chief higher ed HR officers around the country who were protégés of his at Vanderbilt, including Kyle Cavanaugh (now vice president for administration at Duke University) and Linda Hendricks Harig (VP of human resources at the University of Tennessee).
He got me started in this HR universe, and I've found it interesting every day since then. I haven't had a single day that I've been bored. Frustrated? Occasionally. Happy? Frequently. Bored? Never! Doing human resources work in an academic setting is particularly fascinating because, for me, humans are the strategic core of the university. What makes Vanderbilt great is its people—the extraordinary faculty and staff who bring to life and support the mission of creating and disseminating knowledge. It's the goal of HR to help make sure our leaders, faculty and staff are empowered to accomplish the university's mission in the best ways possible. I am excited every day that we get to do that.
Barb's bio:
Most recent role: Chief HR officer at North Carolina State University in Raleigh, N.C.
Professional leadership: National board chair of the College and University Professional Association for Human Resources (CUPA-HR), the national association for higher ed HR
Attended Vanderbilt as both an undergrad and graduate (Owen EMBA'89)
In her spare time: Buying and restoring a pre-1900 house in the historic Germantown neighborhood