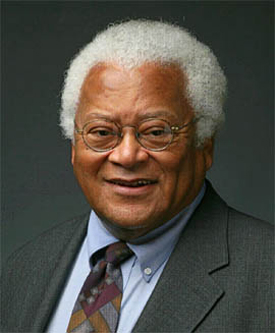 The Rev. James Lawson, whom Martin Luther King Jr. called "the leading nonviolence theorist in the world," will deliver the keynote address at Vanderbilt University's MLK Day celebration Monday, Jan. 18. The theme for Vanderbilt's commemoration is "Apathy to Action: Activism, Allyship and Anti-Racism."
The event will begin at 6:30 p.m. in Langford Auditorium with a candlelight vigil and inspirational interfaith service followed by middle and high school student winners of the university's annual MLK essay contest reading their winning entries. Chancellor Nicholas S. Zeppos and the presidents of the university's Black Student Association and Vanderbilt Student Government will welcome guests and make introductory remarks prior to Lawson's address. The event is free and open to the public, but tickets are required. A maximum of four tickets per person may be picked up at Sarratt Box Office in Sarratt Student Center. For ticket availability, call 615-322-2425. Tickets cannot be held or reserved.
Lawson studied the Gandhian movement in India before becoming a leader in the civil rights movement. His life – including his student years at Vanderbilt's Divinity School – has been marked by an abiding faith in Christianity and nonviolence and a willingness to pay the price for those beliefs. He served 13 months of a three-year prison sentence for refusing the draft during the Korean War and was expelled from Vanderbilt in 1960 because of his work helping to desegregate lunch counters in downtown Nashville. The controversial expulsion, which prompted many Vanderbilt professors to submit their resignations, became known as "the Lawson affair." A compromise was later worked out whereby he was permitted to pursue his graduate studies at Vanderbilt, but he chose to complete his degree at Boston University. He returned to Vanderbilt Divinity School on a sabbatical during 1970 and 1971.
As a Methodist minister, Lawson remained active in the civil rights movement through the years. He chaired the strategy committee for the Memphis sanitation workers' strike during which King was assassinated. In 1974 Lawson became pastor of Holman United Methodist Church in Los Angeles, where he served until his retirement in 1999. Lawson is a former national chairman of the Fellowship of Reconciliation, the oldest pacifist organization in the United States. He also has been an active member of the Southern Christian Leadership Conference, serving as president for 14 years. In 1996 Lawson received the Vanderbilt Divinity School's first Distinguished Alumnus Award.
The Vanderbilt Alumni Association also recognized him as a Vanderbilt Distinguished Alumnus in 2005. In 2006, he returned to campus as a Distinguished University Professor and taught at the university until 2009. In 2007, Vanderbilt established the James M. Lawson Jr. Chair at Vanderbilt in his honor, and in 2013 he donated a significant portion of his papers to Vanderbilt Libraries' Special Collections.
The keynote event featuring Lawson is one of a number of activities happening on campus to commemorate the life and legacy of King. A noon event on Friday, Jan. 15, at Benton Chapel will bring the campus community together to officially kick off commemoration events and feature singing by inversion with Grammy Award-winning artist Marcus Hummon and a call to action by the Rev. Becca Stevens, Episcopal affiliated chaplain at Vanderbilt and founder and president of Thistle Farms. A reception will follow at the Bishop Joseph Johnson Black Cultural Center.
Friday evening, the Chancellor's Lecture Series also will kick off the university's MLK celebration with a lecture by Bryan Stevenson about his memoir, Just Mercy. Nobel Peace Prize Laureate Desmond Tutu has called Stevenson "America's young Nelson Mandela, a brilliant lawyer fighting with courage and conviction to guarantee justice for all." Tutu has further said "Just Mercy should be read by people of conscience in every civilized country in the world to discover what happens when revenge and retribution replace justice and mercy. It is as gripping to read as any legal thriller, and what hangs in the balance is nothing less than the soul of a great nation." Stevenson will have a book signing at 5:30 p.m. in the Langford Auditorium lobby, and his lecture will begin at 6:30 p.m. in Langford Auditorium.
Members of the Vanderbilt community also will participate in a "MLK Weekend of Action" Friday, Jan.15, through Sunday, Jan. 17. Organized by the university's Office of Active Citizenship and Service, Vanderbilt students, faculty and staff are encouraged to participate in projects that address specific community needs.
On the official MLK holiday on Monday, Jan. 18, Chancellor Zeppos and Vanderbilt students will participate in the Nashville MLK Day march; shuttles will be provided to and from campus. Again this year, Nashville Freedom Rider and former Metro Council member Kwame Lillard will conduct a tour for students of significant sites in the Nashville civil rights movement. A lunchtime symposium featuring antiracist essayist, author and educator Tim Wise and afternoon teach-ins also will be available to the campus community on the holiday.
A full list of Vanderbilt's commemorative events and details can be found on the university's Martin Luther King Jr. Commemoration website.
Watch a 2007 interview with the Rev. James Lawson: