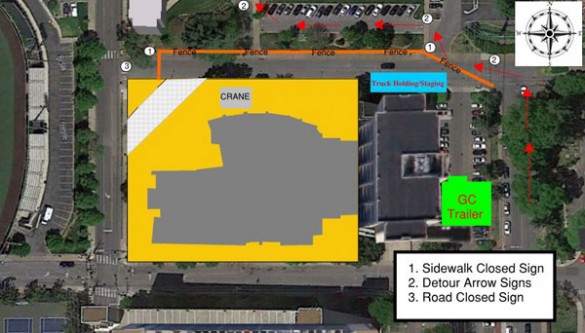 The removal of a crane necessary for the construction of the Engineering and Science Building will close Garland Avenue between 24th Avenue South and 25th Avenue South from 7 a.m., Tuesday, Jan. 12, to 5 p.m., Wednesday, Jan. 13.
The parking lots at the University Club and the E. Bronson Ingram Studio Arts Center, as well as the part of Garland that leads to the back entrances of Medical Center North, all will continue to be available through 25th Avenue South or through other entrances.
Access to the 25th Avenue Garage, including for those attending Tuesday night's men's basketball game in Memorial Gym, is unaffected by the closure.
Construction on the seven-story, 230,000-square-foot Engineering and Science Building began in May 2014 and is expected to be complete this summer.