Media Inquiries
Latest Stories
Community viewed as microcosm for Nashville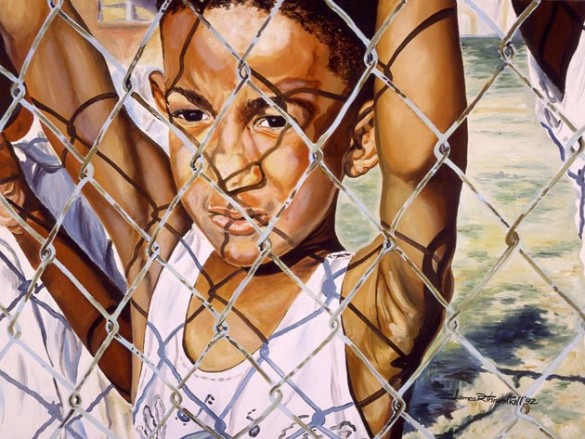 Edgehill Muses, an exhibition spotlighting a Nashville neighborhood noted for strong perseverance and renowned artists, will be at the Curb Center for Art, Enterprise and Public Policy at Vanderbilt University Jan. 21 through May 2016.
The exhibition is free and open to the public. An opening reception is scheduled Jan. 21 from 4:30 to 6 p.m.
"We are pleased to showcase the immense talent of these past and present Edgehill artists, along with pieces from others who address social problems raised by gentrification," said Jay Clayton, director of the Curb Center and William R. Kenan Professor of English at Vanderbilt. "[rquote]We hope to challenge viewers to consider not only Edgehill's rich cultural history, but also what the future might hold for this beloved neighborhood."[/rquote]
Edgehill Muses features works by John Baeder, DeFord Bailey, William Edmondson, Skye Gilkerson, Jodi Hayes, Courtney Adair Johnson, Alan LeQuire, Andrew O'Brien, Mark Schlicher, Macon St. Hilaire, James Threalkill, Scott Wise and Louise Dahl Wolfe.
The curator is Rachel Bubis, gallery manager of E.T. Burk and gallery director of Seed Space. "I grew up very close to Edgehill and have observed over the years the multitude of changes for this historic neighborhood," Bubis said. "Edgehill Muses offers a glance into the future within the context of Nashville's struggle to manage the problems that come with explosive growth."
Exhibition visitors can listen to audio of DeFord Bailey's celebrated performances with his harmonica. The one-time Grand Ole Opry star lived in Edgehill for much of his life. The African American musician faced many discriminatory challenges, including not being able to patronize many of the same restaurants and lodgings as his fellow artists. He died in 1982.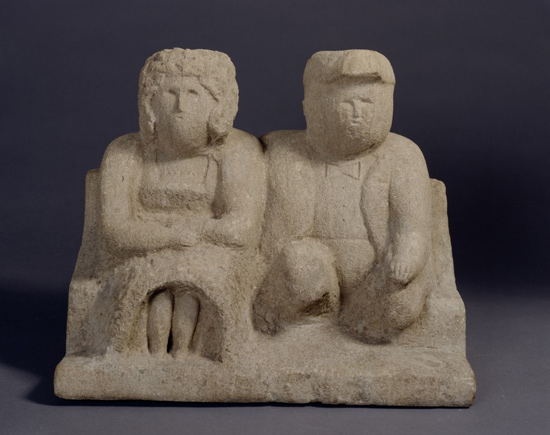 African American sculptor William Edmondson had a strong connection to Edgehill and its traditions. Influenced by his Christian faith and church, he carved figures of biblical characters and others important to the African American community. He also depicted neighborhood figures who were strong, industrious people. One example is "Bess and Joe," an affectionate rendering of a neighborhood couple sitting on a bench. He died in 1951.
Alan LeQuire is an acclaimed Nashville sculptor who was strongly influenced by Edmondson's work as a child. He has acquired a number of Edmondson's pieces, including his grindstone, which is on display. Also on loan from LeQuire's collection is "Crappie," a carving of a fish made by colleague and Nashville artist Scott Wise.
LeQuire notes that Edmondson had no formal artistic training and credited divine inspiration for his talent. "Musica," one of LeQuire's best known works, is featured here in maquette form, a miniature sculpture of the dancing figures that provides a visual icon for the Music Row area and the city as a whole. "An artistic idea often seems to miraculously and spontaneously burst forth," writes LeQuire. "This is what happens in the sculpture, and the title 'Musica' suggests this since it refers to all the art of the muses."
Nashville artist John Baeder captures the spirit of Edgehill in his photograph "Edgehill Polar Bears." These bears are plaster figures that originated as storefront advertisements for the Polar Bear Custard Shop on West End Avenue. They serve as neighborhood gateway markers in their current location in front of the Gernert Studio/Carleen Waller Senior Living Center.
The precarious state of the Edgehill community is captured by James Threalkill's painting "View from the Neighborhood," a portrait of a local youth gazing through a chain-link fence. The Nashville artist, who earned a bachelor of science from Peabody College in 1979, previously served as the community services and arts director for the Edgehill Community Center. He writes, "The painting captures a moment when a young student, rather than relaxed and engaged in play, stares thoughtfully, inward toward the Edgehill Center and outward toward an uncertain future."
One of the impacts of neighborhood gentrification in Edgehill and elsewhere is changing boundaries–both physical and psychological. Works by Jodi Hays address this, including "Untitled" (oil on panel). The colorful paintings of buildings delineated by imagery of flags, fences and grids demarcate borders of built environments. Hays describes her artistic process as a "negotiation of restraint and abandon."
Re-use artist and Edgehill resident Courtney Adair Johnson documents her neighborhood in transition through her abstract renderings of "The Edgehill Map Conversation." There are color-coded markings that suggest what she describes as "key areas, topics of construction, historical significance, outdoor and recreational areas as well as mixed-income and affordable housing."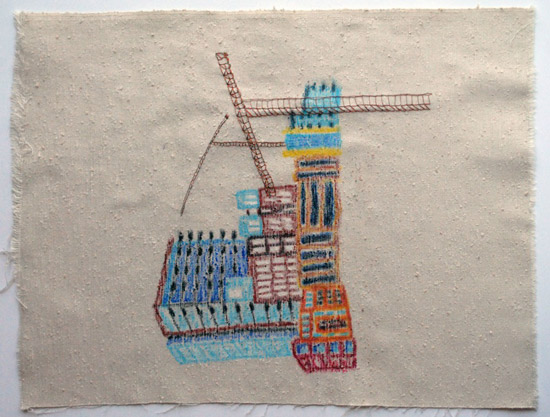 Another participating artist is Macon St. Hilaire, who has created "Crane Drawings," hand- embroidered silk silhouettes of cranes dotting the Nashville skyline. The series of cranes popping up across Nashville has become one of its signifying images. St. Hilaire is also a gallery assistant in the Austin Peay State University art department.
Andrew O'Brien, a recent transplant from New York City to the South, documents the transition of moving to a new city and the feeling of nostalgia and desire that arise from experiencing new places. His photographs, based on laser prints of photographs from the site of the deck he constructed using a DIY website in his backyard, present "The Deck" as a symbol of the American dream.
Skye Gilkerson has lived in many cities, including Nashville. An artist residency in Byrdcliffe Colony, founded in upstate New York as an experiment in utopian living, inspired her to consider which elements of different landscapes make up her ideal place. In "Try to Try" and "Try an Experiment (in Yves Klein Blue)," she took rubbings from the raised surface of a sign that sits at the base of a winding road to Byrdcliffe. Being in this historical setting prompted her to think about her own efforts at utopia, her attempts to create the perfect life, and society's collective experiments in urban development. Her art prompts viewers to consider what an Edgehill utopia might look like.
"What inspires us from Edgehill's past? What should we keep and what should we leave behind?" asks Bubis. "These are just a few of the questions that Edgehill Muses challenges us to consider."
The Curb Center is located at 1801 Edgehill Ave. For more information, email Heather Rippetoe or call (615) 322-2872.