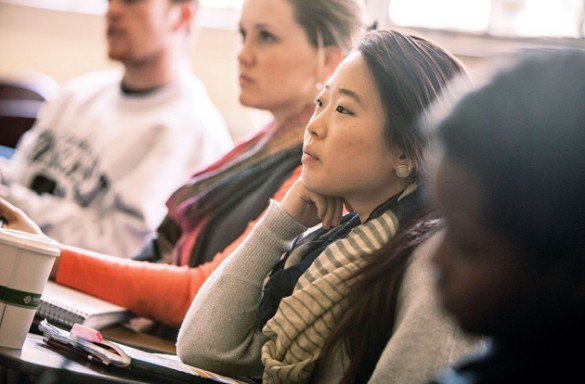 Vanderbilt University is ranked No. 3 among private universities on the Kiplinger's Personal Finance list of "Best College Values" for 2016, behind only Princeton (No. 1) and Harvard (No. 2). In addition, Vanderbilt is ranked No. 6 overall on Kiplinger's combined list of the top 300 private universities, private liberal arts colleges and public universities for best value in the country.
"Vanderbilt is proud to count itself among the nation's top universities that combine outstanding academics with affordable cost," Provost and Vice Chancellor for Academic Affairs Susan Wente said. "Vanderbilt's deeply held commitment to serving society through education, research and service, as well as its commitment to helping every student graduate debt-free, has positioned it among the very best."
Kiplinger's ranks universities annually based on its definition of value: "a quality education at an affordable price." Among the factors the publication considers for academic quality are competitive admission rates, the percentage of students who return for sophomore year, and low student-faculty ratios. On the cost side of the equation, the magazine looks for schools with a reasonable price tag, generous need-based aid for students who qualify, and low student debt.
"We start with a universe of 1,200 schools, so each school on our rankings, from No. 1 to No. 300, is a best value," said Janet Bodnar, editor of Kiplinger's Personal Finance. "Families can use the list as a starting point and then tailor it to each student's preference for such things as size, location, campus culture and major."
Of the 31,464 students who applied for one of the 1,600 seats in Vanderbilt's current first-year class, 11.7 percent were admitted. A record 38.8 percent of students in this highly selective class are minority students, up from 36.3 percent in 2014 and 30.1 percent in 2010. Vanderbilt boasts a 97 percent first-year student retention rate and an 8:1 student-to-faculty ratio.
In addition, the Opportunity Vanderbilt expanded aid program meets 100 percent of a family's demonstrated financial need. Beginning in the fall of 2009, Vanderbilt eliminated all need-based loans for admitted Vanderbilt undergraduate students who are U.S. residents or eligible non-residents, choosing to substitute scholarships and grants to those with demonstrated need. In the Class of 2019, 68.7 percent of students receive financial assistance, compared to 64.3 percent five years ago.
The complete "Best College Values" rankings are now available online at Kiplinger.com/links/college and will appear in print in the February 2016 issue of Kiplinger's Personal Finance, on newsstands Jan. 5.