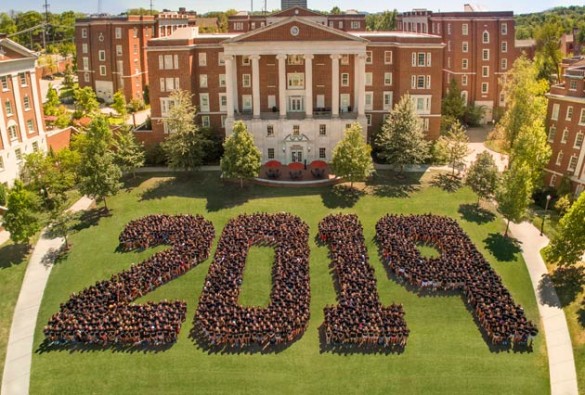 The Vanderbilt University Class of 2019 is finishing up its first semester on campus this week, and it does so as the most selective, academically qualified, and ethnically and geographically diverse entering class in the university's history.
"The students who joined us this fall as freshmen are among the most talented and qualified students from around the world. In choosing to come to Vanderbilt, they made a decision to engage in an educational experience and become a part of an intellectual community in which they will be enriched as much by their differences as by their shared goals and aspirations," Vanderbilt Chancellor Nicholas S. Zeppos said. "Promoting a diverse student body is part of our educational mission because we know our world needs leaders that can solve problems from many perspectives. I could not be more proud of these students and am eager to see their continued accomplishments."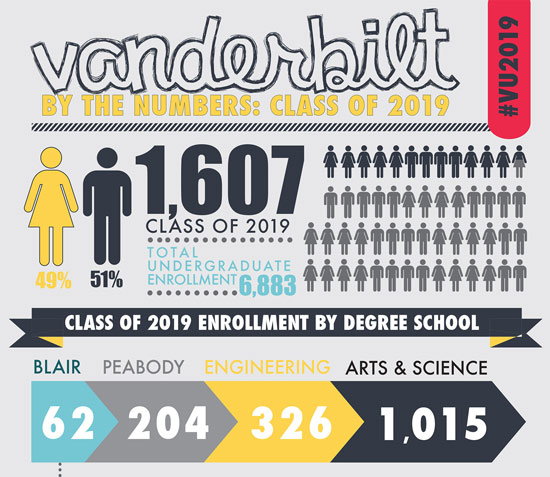 Of the 31,464 students who applied for one of the 1,600 seats in the Class of 2019, 11.7 percent were admitted. This was down from 13.1 percent the previous year and 17.9 percent five years ago. A little more than 91 percent of enrolling students ranked in the top 10 percent of their high school class, up from 84.6 percent in 2010.
The ACT scores for the middle 50 percent of the class ranged from 32 to 35, putting them in the 98th and 99th+ percentiles nationally, up from 30 to 34 (95th – 99th percentiles) in 2010. For those submitting the SAT, the middle 50 percent of the class ranged from 1430 to 1590, putting them in the 97th and 99th+ percentiles nationally, up from 1360 to 1530 (94th – 99th percentiles) in 2010.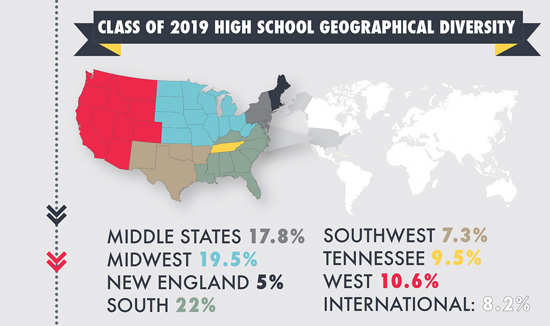 A record 38.8 percent of students in this highly selective class are minority students, up from 36.3 percent in 2014 and 30.1 percent in 2010, with increases in all categories. International students make up 7.5 percent of the class, up from 5.6 percent in 2010. Students from outside of the South make up 68.5 percent of the class, with 10.6 percent now coming from the West. Five years ago, 61.1 percent came from outside of the South, with only 6.5 percent coming from the West.
The Class of 2019 comprises graduates from 1,058 different high schools nationally and abroad, with 65.5 percent of the students who enrolled this fall coming from public high schools. In 2010, 1,016 high schools were represented in the entering class, with 60 percent of those students having graduated from a public high school.

"The remarkable qualifications of these students is proof that when we embrace diversity we elevate our quality overall; this is borne out in the data," Provost and Vice Chancellor for Academic Affairs Susan Wente said. "We have found that simultaneously pursuing our goals of a rigorous focus on academic ability and increased diversity—of every kind—is not only possible, but that there is in fact a synergy achieved that elevates quality on every level when we do so."
Many students who may not have had the financial ability to attend Vanderbilt in the past can do so now thanks to the Opportunity Vanderbilt expanded aid program, in which Vanderbilt meets 100 percent of a family's demonstrated financial need. Beginning in the fall of 2009, Vanderbilt eliminated all need-based loans for admitted Vanderbilt undergraduate students who are U.S. residents or eligible non-residents, choosing to substitute scholarships and grants to those with demonstrated need. In the Class of 2019, 68.7 percent of students receive financial assistance, compared to 64.3 percent five years ago.
"A key reason why we were able to recruit this highly selective and diverse class is Opportunity Vanderbilt," Douglas Christiansen, vice provost for university enrollment affairs and dean of admissions and financial aid, said. "That investment has greatly accelerated our timeline to meet our goals of becoming more selective, more academically rigorous and more diverse."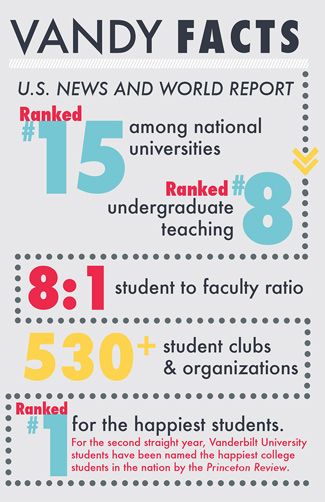 Along with exceptionally high academic strength and historic diversity, the members of the Class of 2019 share a proven track record of leadership. One hundred percent of the class held the highest level of leadership in their high school activities. In addition:
91 percent were service leaders;
91 percent were academic leaders;
53 percent were athletic leaders or champions;
36 percent were fine arts leaders; and
33 percent were student government leaders.
Learn more: