A grant from the National Institutes of Health is supporting a Vanderbilt historian as she works on a book tracing the cultural history of diabetes.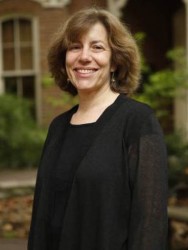 "The book will examine the stories professional and popular writers in the United States have been telling for over a century about who gets diabetes and why," said Arleen Tuchman, professor of history at Vanderbilt University.
"These stories have much to do with beliefs about race, class, heredity and disease."
The $48,500 grant from the NIH's U.S. National Library of Medicine is designed to aid in the preparation of book-length manuscripts and other scholarly works of value to U.S. health professionals, public health officials, biomedical researchers and historians of the health sciences.
"I'm thrilled and honored to have received a grant from the NIH at a time when funding for medical and scientific research, let alone humanities research, has been severely cut," Tuchman said.
At the turn of the last century, diabetes was considered a disease of the middle classes, particularly Jews, Tuchman said. "Since the 1980s, the populations most at risk have been identified as Native American, African American, Hispanic/Latino and the poor," she said.
"This project charts the changing 'face' of diabetes over the course of the century, while examining how cultural stereotypes about particular populations became embedded in allegedly neutral statements about differential susceptibilities to diabetes," Tuchman said.
In addition to the book, Tuchman expects to produce several journal articles and conference presentations from her research.