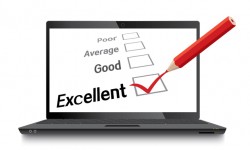 Last winter, Vanderbilt IT released its inaugural faculty and staff satisfaction survey. With more than 400 responses, the survey instructed IT how it could improve its support over the 2015 calendar year.
VUIT made a variety of changes based on customer feedback, including creating a campaign to promote key offerings, structuring Customer Service Mentality Training sessions for IT team members, and upgrading classroom technologies.
In July 2015, the organization established an ongoing campaign called "Did You Know?" designed to share VUIT products and services with the Vanderbilt community. As part of this campaign, VUIT team members receive a monthly email from VUIT Communications with details about that month's featured offering to prepare themselves for interactions with and questions from customers. Also, the campaign is promoted on the VUIT homepage in a user-friendly slideshow that customers can click on to learn more. Previous offerings have included wireless onboarding instructions, the Tech Hub, creating a secure password, Lync training, and the software and network testing center. Check the VUIT homepage often to learn about new IT products and services.
In addition to "Did You Know?", VUIT-developed and -delivered Customer Service Mentality Training (CSMT) sessions were designed to decrease customer frustration and heighten communication among team members and customers. The sessions were mandatory for all VUIT staff members and were focused on understanding customers' needs, taking ownership of problems, reaching agreements and following up. Specifically, the communication skills and training taught throughout this course encourage team members to serve customers by connecting them to the appropriate IT personnel for those tickets that do not fall within their scope of work. VUIT has since assimilated CSMT into quarterly orientations to ensure that all IT employees benefit from this professional development course.
Survey results also featured feedback pertaining to classrooms in need of upgrades. In response, VUIT's Distributed Technology Services upgraded a total of 40 classrooms with AV operating systems, lighting and data connectivity throughout the year, and readied all 311 classrooms for the academic year to ensure full functionality. These upgrades will continue during summer 2016 and beyond until all meet the same standard.
VUIT will release its second annual satisfaction survey via MyVU on Monday, Dec. 21.
For more information about the survey or the results, please email Kara Sundar at kara.sundar@vanderbilt.edu.