Vanderbilt MBA student awarded $25,000 Sohr Grant for startup
Dec. 16, 2015, 1:06 PM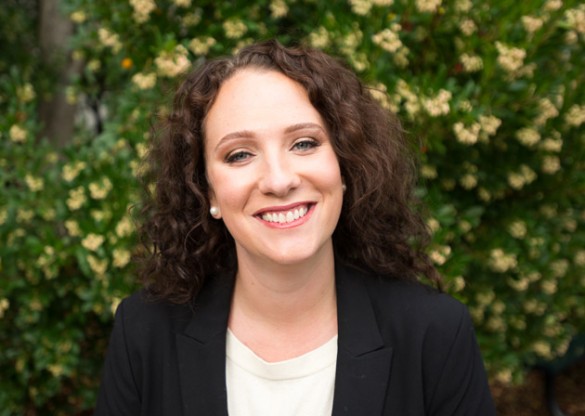 Trisha Fridrich, an MBA student at Vanderbilt University's Owen Graduate School of Management, has been awarded a $25,000 Sohr Grant to support her startup, VRION Ticketing, a cloud-based ticketing technology designed for tour companies.
VRION Ticketing will allow tour companies and similar businesses to sell activities and merchandise to their customers on the Internet, a mobile device, over the phone or from a box office. The startup differs from other ticketing companies because of its specific focus on tour operators with more than $1 million in annual revenue in the United States. These businesses have unique ticketing needs that are currently underserved, Fridrich said, so she designed VRION Ticketing to have the flexibility, data and mobility options that are specific to the needs of a tour operator.
"With the right technology, tour operators can greatly increase efficiency and lower overhead costs," Fridrich said. "Tours and activities are the third largest segment of the travel industry, and 90 percent of operators in this $18 billion industry are unhappy with their technology solutions. VRION Ticketing's goal is to change that."
Each year, up to five Vanderbilt MBA students are awarded Sohr Grants to explore their startup ideas. Jim Sohr (BE'86, MBA'90) and his wife, Leah, began awarding the grants to MBA student entrepreneurs in 2012. Students compete each year for Sohr Grants by pitching their business ideas to a group of successful entrepreneurs who help judge the competition. At least one award is made annually. In addition to the award money, the Sohr Grant allows students to gain invaluable perspectives from a seasoned entrepreneur network.
Fridrich is a second-year MBA student at the Owen Graduate School of Management. Before arriving at Vanderbilt, she spent 10 years helping grow a tour company from 20 to more than 120 employees. There, she developed an intimate knowledge of tour operators and their ticketing needs.
The Owen School community has been instrumental in developing her startup idea, Fridrich said. She originally presented the idea during the MBA program's core communications class. After hearing Fridrich's idea, professor emeritus Germain Boer, director of the Owen Entrepreneurship Center, encouraged her to present at FireStarter, an Owen program that grants seed money to help students develop business plans.
Over the next three months, Fridrich will use the grant to build VRION Ticketing's initial platform so that its beta customers can provide feedback for the technology "to ensure that what we build is a great fit in our target market," she said.
"When I arrived at Owen, I had no idea that I would be an entrepreneur," Fridrich said. "I have been fortunate to be mentored by Professor Boer and Mario Avila (MBA'12 and director of the Turner Family Center for Social Ventures), and over the last few months, Owen's strong alumni network has helped me to shape my next steps. I am thrilled for the opportunity to work on VRION Ticketing as I finish my MBA with the support of the school, my classmates and my professors."
Past Sohr Grant winners:
2015: Trisha Fridrich, Chris Gerding, Leiya Hasan
2014: Kramer Schmidt
2013: Baxter Webb, Enoch Sizto
2012: Mario Avila, Megan Allen and Ian McCollum
Contact: Brett Israel
brett.israel@vanderbilt.edu