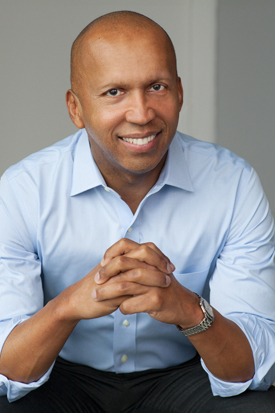 Bryan Stevenson, a law professor at New York University and the founder and executive director of the Equal Justice Initiative in Montgomery, Alabama, will speak on Friday, Jan. 15, as part of the Vanderbilt Chancellor's Lecture Series.
Stevenson will discuss his best-selling memoir Just Mercy: A Story of Justice and Redemption with Chancellor Nicholas S. Zeppos from 6:30 to 7:30 p.m. in Vanderbilt's Langford Auditorium. A reception and book signing will precede the talk from 5:30 to 6:30 p.m. in the Langford Auditorium lobby. Both events are free and open to the public, and no tickets are required. Seating is limited and will be available on a first-come, first-seated basis.
Stevenson's memoir is the powerful true story of the potential of mercy to redeem our society and fix our justice system. When he was a 23-year-old Harvard law student, Stevenson started an internship in Georgia where his first assignment was to deliver a message to Walter McMillian, a young man sentenced to death for a notorious murder he insisted he didn't commit. The case transformed Stevenson's understanding of mercy and justice forever and became his calling—representing the innocent, the inadequately defended, children, domestic abuse survivors, and the mentally ill. He founded the Equal Justice Initiative, a legal practice dedicated to this work.
Stevenson has won relief for dozens of condemned prisoners, argued five times before the U.S. Supreme Court, and won national acclaim for his work challenging bias against the poor and people of color. He has received numerous awards, including the MacArthur Foundation "Genius" Grant.
In addition to being a New York Times best-seller, Just Mercy was named a best book of the year by The New York Times, The Washington Post, The Boston Globe, The Seattle Times, Esquire and Time. It won the Carnegie Medal for Nonfiction, the NAACP Image Award for Nonfiction, and the Books for a Better Life Award, among other honors.
Stevenson's talk kicks off Vanderbilt's 2016 Martin Luther King Jr. Commemoration, scheduled for Jan. 15-18. Visit vanderbilt.edu/mlk for full details and additional events scheduled for MLK week.
Parking for the Jan. 15 Chancellor's Lecture will be available on the rooftop level of the 25th Avenue Garage, located near the intersection of 25th and Highland avenues. Please use the garage's 25th Avenue entrance.
The Vanderbilt Chancellor's Lecture Series strives to connect the university and the Nashville community with intellectuals who are shaping our world. For more information about the series, visit the Chancellor's Lecture Series website, email cls@vanderbilt.edu, call (615) 322-0885, or follow on Twitter @VUCLS.