On Saturday, Dec. 12, at 5:18 a.m., a resident of the Barbizon Apartments, located at 2006 Broadway, notified Metro Nashville Police of an attempted burglary. VUPD responded to the scene and searched the area for a suspect. Review of camera footage shows the suspect in the picture below attempting to open a ground-level window. The incident is under investigation.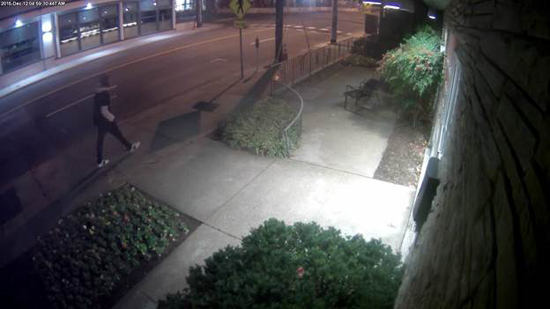 The suspect appears to be an African American male, slim build, wearing white tennis shoes, dark colored pants, a white long-sleeve undershirt with a dark-colored outer shirt, and a baseball cap.
Risk reduction tips:
Do not allow strangers to enter your room or your complex. Do not open your door unless you can identify the person seeking entry.
Always lock your doors and windows at night, especially if you reside on the first or second floors.
If you have information about this or a similar incident, please call the Vanderbilt University Police Department at (615) 322-2745.