A team of three Vanderbilt University graduate students has won the Hult Prize@Vanderbilt competition, an opening round of the Hult Prize's $1 million social entrepreneurship challenge, for their business plan to make and sell juice from street vendors' unsold fruit.
This year's Hult Prize challenge is to build a sustainable, scalable and fast-growing social enterprise with the goal of doubling the income of 10 million people living in crowded urban spaces by better connecting people, goods, services and capital. The Hult Prize is offered in partnership with former U.S. President Bill Clinton and the Clinton Global Initiative.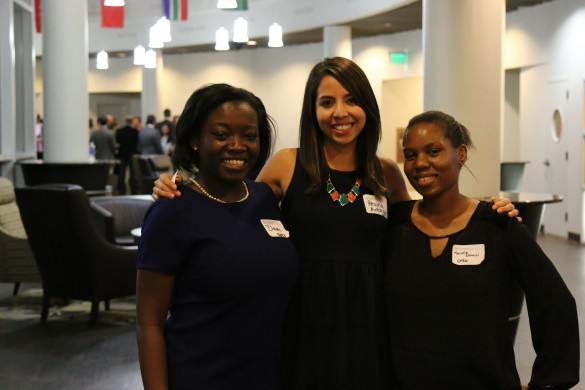 On Dec. 7 student teams from across Vanderbilt University presented eight-minute pitches about their plans to judges and a public audience at the Owen Graduate School of Management. Students from Owen, Peabody, Divinity, Nursing and Engineering, as well as the Graduate Program in Economic Development and the Master of Public Health program, participated in the competition. The competition, held at Vanderbilt for the first time, was hosted by the Turner Family Center for Social Ventures, which is supporting the winning team as they research and develop their business plan.
Members of the winning team are Regina Andrade, Tenele Diamini and Dami Lasisi. All are students in the Graduate Program in Economic Development at Vanderbilt. The team's social-enterprise business plan addresses the issue of urban poverty by connecting street vendors to more formal markets. Their business would buy unsold fruits from street vendors, create juice from these locally produced fruits, and sell it to local supermarkets.
"While combating urban poverty is complex, our idea is simple," says Diamini, who is also a Fulbright Scholar. "Our plan would indirectly increase the street vendors' income by reducing their foregone profit."
Judges for the Hult Prize @ Vanderbilt competition were Bruce Bowman, president of KaBOOM!; Kila Englebrook, director of the Social Enterprise Alliance; Buddy Teaster, CEO of Soles4Souls; Corey Davis, director of business growth initiatives at the Nashville Chamber of Commerce; Mason Worthington, advisory services specialist at Pathway Lending; Cabot Pyle, executive director of the Cal Turner Family Foundation; and Martha Silva, director of economic integration at Conexion Americas.
The winning team automatically advances to the global regional finals, held in one of five global locations in March 2016. Interdisciplinary teams from Vanderbilt have now reached the regional finals each of the last three years.
"I'm thrilled at the success of this first-ever event on campus," says Matt Inbusch, MBA Class of 2016 and campus director of the Hult Prize@Vanderbilt event. "We had a diverse group of nearly 50 student participants from across the university, an accomplished judges panel featuring leaders from the private, public and nonprofit sectors, and some really innovative ideas created. This is the beginning of something very exciting for social business programming at Vanderbilt through the Turner Family Center."
Before pitching their business plan at the Hult Prize regional finals, the winning team will first travel to Nigeria, home of team member Dami Lasisi, to conduct market research and explore additional details about their plan. Nigeria is an ideal test market for their business because approximately 66 percent of the population lives in slums and many residents earn their income through selling food, such as fruit, in the street or marketplace, Diamini says. Like in many urban areas, most of the fruit that goes unsold becomes waste and is either thrown away or rots.
About the Hult Prize
The Hult Prize is offered in partnership with former U.S. President Bill Clinton and the Clinton Global Initiative. The annual competition aims to create and launch the most compelling social business ideas—startup enterprises that tackle grave issues faced by billions of people. Each year a critical social problem is personally selected by Clinton, and a challenge is issued. Teams of three or four students then develop a tailored and innovative startup enterprise to solve the problem. Winners receive $1 million in seed capital, as well as mentorship and advice from the international business community.
Open to universities, colleges and students on every continent, the Hult Prize has grown to become the world's largest student movement for social good. Swedish entrepreneur Bertil Hult and his family fund the prize, which is called the "Nobel Prize for Students" by Nobel laureate Muhammad Yunus, PhD'71, a Vanderbilt graduate and pioneer in the field of microcredit. Nearly all of the Financial Times' Top 100 MBA programs participate.
About Vanderbilt's Turner Family Center for Social Ventures
The Turner Family Center for Social Ventures is a new hub for coordinating social enterprise activities at Vanderbilt. The center, established with a $1.2 million gift over five years from the Cal Turner Family Foundation, seeks to go beyond the success of Project Pyramid and serve as a resource and thought leader for people from all Vanderbilt schools interested in combining revenue-generating businesses with social-impact objectives.
Program contact:
Brett Israel
(615) 322-3469