Media Inquiries
Latest Stories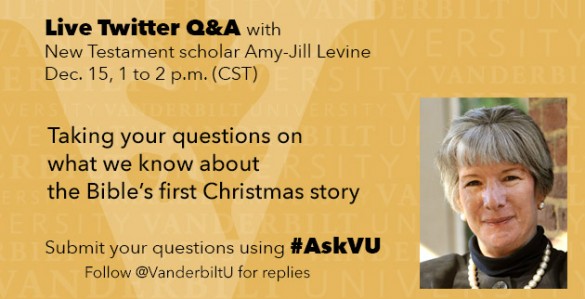 Vanderbilt University New Testament scholar Amy-Jill Levine will be available on Twitter Dec. 15 at 1 p.m. (CST) to discuss what we know about the Bible's first Christmas story.
Levine is the E.Rhodes and Leona B. Carpenter Professor of New Testament Studies. She is also the University Professor of New Testament and Jewish Studies. Her faculty appointments are in Vanderbilt Divinity School and the College of Arts and Science.
Questions for Levine can be tweeted in advance or during the event using the hashtag #AskVU. The event can be read live on Twitter Dec. 15 by following @VanderbiltU.
Levine examines the literary, historical and cultural implications of scripture to understand how, when and why various interpretations arise. With a frequent dash of humor, she exposes anti-Jewish, sexist and heterosexist theologies and other forms of prejudice that directly impact people's lives.
Levine has received international acclaim for books that include Short Stories by Jesus: The Enigmatic Parables of a Controversial Rabbi (HarperOne), The Misunderstood Jew: The Church and the Scandal of the Jewish Jesus (HarperOne), and The Jewish Annotated New Testament (Oxford), co-edited with Marc Brettler of Duke University.
Among her other publications are the edited collection The Historical Jesus in Context (Princeton), and the 13-volume edited series Feminist Companions to the New Testament and Early Christian Writings (Continuum).
In 2011, Levine became an affiliated professor at the Woolf Institute: Centre for the Study of Jewish-Christian Relations at Cambridge, U.K. She is a featured lecturer in audio/video projects for the Teaching Company's Great Courses series.
The Q&A on the Bible's first Christmas story is the sixth in Vanderbilt's Twitter series #AskVU, in which Vanderbilt experts on a variety of topics are available to answer questions from the public via Vanderbilt's Twitter account.