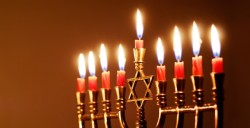 Vanderbilt Chabad, Vanderbilt Hillel and the Office of the University Chaplain and Religious Life will sponsor a campuswide Chanukah celebration beginning at 4:30 p.m. Thursday, Dec. 10, at Kirkland Hall.
A six-foot menorah will be lit on the Kirkland Hall stairs, and sizzling latkes, homemade donuts and hot apple cider will be served. All are welcome to attend.
In the event of rain, the celebration will be moved inside Kirkland.
For more information, contact chabadvanderbilt@gmail.com.