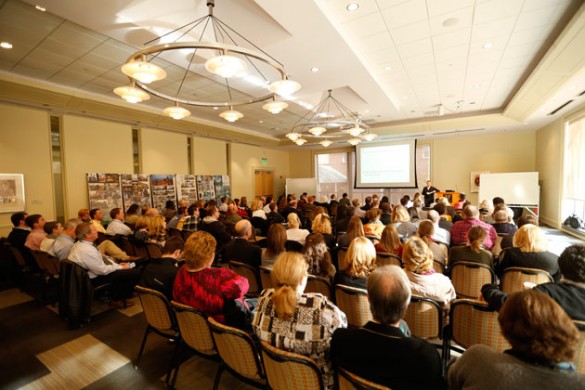 A crowd of more than 100 students, faculty, administrators, staff and alumni joined Chancellor Nicholas S. Zeppos at Monday's town hall meeting to provide input on the new campus land use plan.
"A master land use plan is a kind of idealized vision of the future. And as we all know, idealized visions of the future rarely get done in their entirety," Fred Clarke, senior principal of the architecture firm Pelli Clarke Pelli, told the group assembled at the Student Life Center.
Yet, each of the land use plans developed by Vanderbilt over the past century has carried at least a few idealized fragments into the future in the form of new buildings, green spaces or thoroughfares. What's more, Clarke said, each land use plan offers an underlying set of characteristics that have shaped Vanderbilt's campus over decades.
In 2001, for example, several key conceptual elements emerged from a land use plan that helped pave the way for Vanderbilt's residential colleges, as well as campus infill projects such as the Student Life Center and the Ben Schulman Center for Jewish Life.
Fifteen years later, new considerations have moved to the foreground, such as diversity and inclusivity; the university's Academic Strategic Plan; environmental sustainability; increased development and traffic around campus; and the pending separation of Vanderbilt University Medical Center from the university. Each of these topics has its own set of complex ramifications when it comes to campus planning. However, they all need to be coordinated under a single strategic blueprint.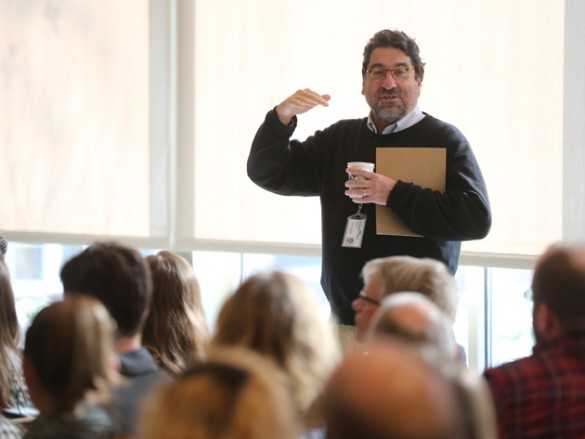 "It is critical that we consider our planning needs in the context of, and alongside, the Academic Strategic plan," Zeppos said. "At the same time, we want to ensure that the fundamental principles we cherish together as an institution—a commitment to inclusion and diversity, sustainability and civility—manifest themselves in our physical surroundings."
Beyond their recommendations for future development, land use plans tend to identify opportunities for overhauling facilities as well as correcting past building mistakes—projects usually undertaken to relieve a short-term need, most notably the construction and placement of parking garages.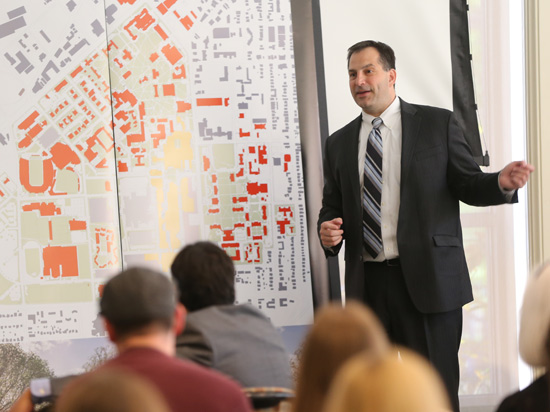 Monday's town hall included a presentation on the history of land use planning at Vanderbilt by Robert Waits, landscape architect in the Department of Campus Planning and Construction. It also gave members of the Vanderbilt community an opportunity to tell administrators and the architecture team from Pelli Clarke Pelli things that they like—and don't like—about the current campus. Among the biggest complaints were having to walk amid so much traffic and a feeling that some of the centers devoted to racial and religious diversity do not sit in the heart of the original campus. The crowd's most treasured features of campus, not surprisingly, were the expansive lawns dotted with a wide variety of trees, plants and flowers.
Opening the session, Vice Chancellor for Administration Eric Kopstain said over the course of the next year, working groups in four key areas would come together to help guide this newest land use plan:
Academic and research
Student life and experience
Clinical and hospital
Perimeter and off-campus
In November, the university held a land use symposium that featured lectures from faculty representing a broad array of disciplines and backgrounds. Monday's town hall was the first session soliciting public comment from the Vanderbilt community.
"I was amazed at the diverse blend of participants that attended the town hall. It was a strikingly well-balanced group of students, faculty, staff, administrators and alumni across a range of ages, genders and cultural backgrounds," Kopstain said. "We are truly committed to giving all stakeholders a voice in this very important process. I look forward to much more discussion."
To learn more and submit your input, visit the Land Use Planning Initiative website.