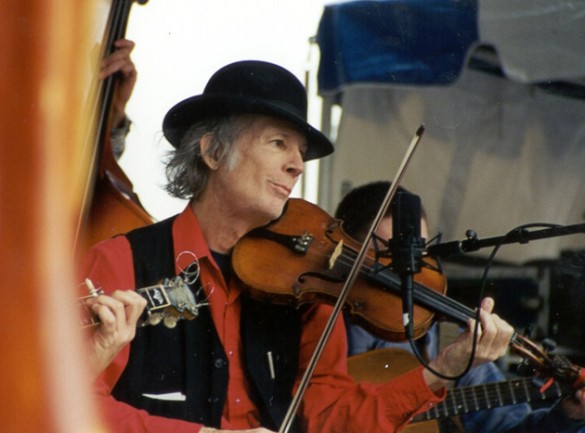 Collections of fiddle tunes, biographies of musicians and histories of Southern music are among the 2,500 books donated by the family of legendary singer-songwriter John Hartford to the library at Blair School of Music at Vanderbilt University.
"Our family is so grateful to the Blair School of Music for helping to preserve and celebrate Dad's legacy and his contributions to American music," said Katie Hartford Hogue, the late musician's daughter.
"Dad had a wide spectrum of interests and was passionate about each of them, and that passion comes through in the diversity of this collection," Hogue said.
The collection will be housed in the Anne Potter Wilson Music Library at Blair, some within the library's general circulating collection and more fragile items in the library's vault, only available for on-site use.
"We are honored that Mr. Hartford and his family have made the Anne Potter Wilson Music Library the home for this important collection," said Jody Combs, interim dean of libraries at Vanderbilt. "It means a great deal to have community members share in our mission to preserve the scholarly and cultural record for future generations of researchers, students and scholars."
"John Hartford was a bluegrass pioneer – a wonderful and legendary musician," said Mark Wait, dean of the Blair School of Music. His collection will be a gem in our music library, enriching students for years to come, and we are deeply honored to welcome these items."
Hartford (1937-2001) was a noted performer, songwriter, television personality and river boat captain. He wrote the popular song "Gentle on My Mind," recorded by Glen Campbell and hundreds of other singers. He appeared on the Smothers Brothers Comedy Hour and Glen Campbell Goodtime Hour on CBS before moving to the Nashville area and contributing to the revival of bluegrass and old-time string band music. He was also an avid music historian and was working on a biography of fiddler Ed Haley at the time of his death.
"John Hartford stands at the crossroads of traditional and progressive bluegrass," said recording artist Alison Brown, adjunct artist teacher of banjo at Blair. "As a musical visionary, he paved the way for the evolution of contemporary bluegrass and all its varied offshoots. … I'm so excited that his collection has found a home at Blair School of Music."