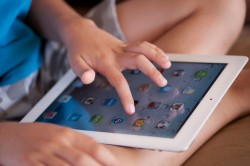 Anxiety disorders are among the most common mental health disorders. We all experience some type of temporary anxiety every day. It is when anxiety is ongoing, builds upon itself, and interferes with daily activities, work or relationships that it moves into a possible disorder.
Technology is now available to help people manage anxiety and prevent it from building up into a more serious condition. There are free apps that can help people calm down, relax, rest and ground themselves in order to cope more effectively with the stressors that activate the fear, worry and physical symptoms of anxiety.
Here are three anxiety management apps available in both iPhone and Android formats that you might consider downloading:
Calm – This app walks users through a variety of meditations (short and long) with great background sounds to choose from (ocean, wind, rain, etc.) and very nice visuals.  This app can be used when you have trouble sleeping, too.
Breathe2Relax – This app uses guided breathing exercises to help reduce symptoms of an anxiety attack. If an attack is coming or the symptoms are unbearable, slip away into a quiet room, open your app, and let the worry and stress slip away with each breath.
Worry Box – Have you ever wished you could put all your worries in a box, leave them there, and walk away? The Worry Box app may let you do just that. The app functions a lot like a journal: Write down your thoughts, anxieties and worries, and let the app help you think them through. It will ask questions, give specific anxiety-reducing help, and can even give direction to help you reduce your worries and anxiety. It is all password protected, so you can feel safe sharing the details of your stresses.
For more information about anxiety and anxiety management, please visit the Work/Life Connections – EAP Resource Library.
You also can call (615) 936-1327 to schedule a free and confidential assessment with one of our licensed and trained clinicians.