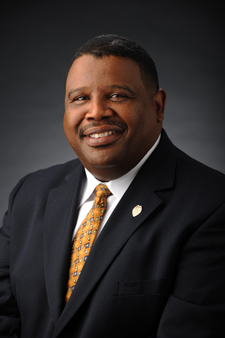 With plans to draw on August Washinton's more than 30 years of experience in college law enforcement, Tennessee State University President Glenda Glover has enlisted Vanderbilt's associate vice chancellor and police chief to assist TSU in further developing its campus safety enhancement plan.
Glover announced TSU's 10-Point Safety Enhancement Plan in late October following incidents of violent crime that occurred within weeks of each other on and near the campus.
"The university is pleased to have an individual of Mr. Washington's caliber and level of expertise in this capacity to assist us with such an important area as public safety," Glover said. "In addition to Mr. Washington's experience, he is familiar with local law enforcement and works with the same agencies as our police department in his current role."
Washington will serve as an unpaid consultant to TSU's police department for 60 days while continuing his duties at Vanderbilt.
"[lquote]I have a strong desire to serve, and this is an opportunity to bring to bear what I have learned working in law enforcement at seven universities to help a fellow higher education and Nashville community member," Washington said.[/lquote]
One of Washington's first actions will be to lead an external team of law enforcement professionals to review the TSU police department's current policies, procedures and practices. Following the review, the group will be responsible for developing a strategic plan of goals and objectives based on best practices drawn from the standards of the International Association of Campus Law Enforcement Administrators (IACLEA) and the Commission on Accreditation for Law Enforcement Agencies (CALEA).
Washington also has agreed to assist TSU with establishing a student officer program, an initiative that set an undergraduate Washington on the path to his law enforcement career. He worked his way through the University of Southwestern Louisiana in Lafayette, now known as the University of Louisiana-Lafayette, as a member of the university police department's student officer program.
Washington joined the Vanderbilt University Police Department as chief in 2009 after serving as chief of police at the University of Tennessee-Knoxville for four years. His experience includes being deputy director of safety and security at the University of Southern California in Los Angeles and director of safety and security at Florida Atlantic University, which has seven campuses throughout South Florida. He also served as director of public safety at Indiana State University, director of community safety at Reed College in Portland, Oregon, and as a public safety lieutenant at Portland Community College.
He has been recognized by IACLEA for his outstanding service and improvements to VUPD. In 2015, the Tennessee Association of Chiefs of Police selected him the 2015 Middle Tennessee Chief of the Year.