Join provost for Open Dore On Location Dec. 7 and 17
Dec. 2, 2015, 5:52 PM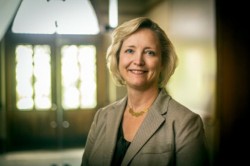 Vanderbilt faculty and staff are invited to attend Open Dore On Location, informal discussion sessions with Provost and Vice Chancellor for Academic Affairs Susan Wente, scheduled once or twice per month at various locations across campus.
The sessions are designed for an open discussion and may involve more than one person at a time.
No appointments are necessary. Drop in anytime during the session.
Upcoming dates, times and locations for Open Dore On Location are:
Dec. 7 at 4 p.m. – Buttrick Hall Atrium
Dec. 17 at 4 p.m. – Bishop Joseph Johnson Black Cultural Center Auditorium
Contact: provost@vanderbilt.edu