Re-launched Commencement website announces new features for 2016
by
Kara Furlong
Nov. 23, 2015, 1:58 PM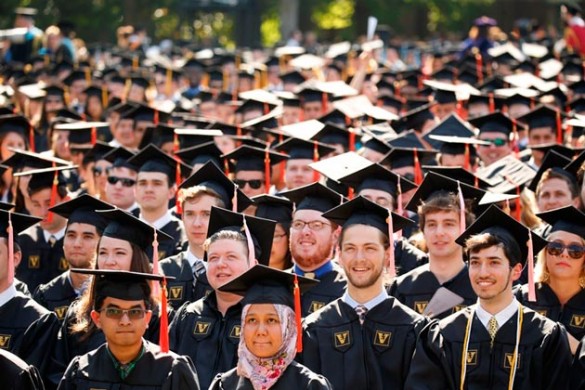 Preparations are underway for Commencement 2016, scheduled for May 11-13, and many details of the three-day event are available on the newly re-launched Commencement website.
Broadcast journalist and philanthropist Soledad O'Brien will be awarded the 2016 Nichols-Chancellor's Medal and will serve as the Senior Day speaker from 11 a.m. to noon on Thursday, May 12, in Memorial Gym.
The previous evening, on Wednesday, May 11, the Class of 2016 will reunite with old friends at The Ingram Commons Open Houses from 8 to 9:30 p.m. Afterward, all graduates and their families will celebrate at The Party from 9 p.m. to midnight on The Commons Lawn.
The 2016 Party headliner will be Sixwire from the hit ABC television series Nashville, including an as-yet-announced cast member. The Downtown Band will continue the music and dancing late into the night. New this year, students will get free admission to The Party with a Vanderbilt ID.
Graduates from Vanderbilt's 10 schools will convene on Alumni Lawn beginning at 9 a.m. Friday, May 13, for the university's main Commencement ceremony featuring Chancellor Nicholas S. Zeppos. Strawberries and Champagne, a reception for the undergraduate Class of 2016 hosted by the chancellor, will immediately follow the ceremony.
For Commencement 2016, Vanderbilt Value Meals will be available for breakfast and lunch on Thursday, May 12, and Friday, May 13, for graduates and their families who are on a budget and on the go.
For more information on Commencement week activities, graduate instructions, maps and more, visit the Commencement website at www.vanderbilt.edu/commencement.
Questions?
Please contact (615) 322-2870 or commencement@vanderbilt.edu.