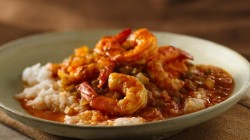 The Vanderbilt Recreation and Wellness Center and Health Plus present "Vandy Cooks: Dive Deeper with Seafood this Holiday Season" on Friday, Dec. 11, 2015, from noon to 1 p.m. in the VRWC Demonstration Kitchen.
Join food experts Marilyn Holmes, Melinda Mahoney, Laura Osterman and Marissa Wertheimer as they share their favorite recipes from appetizers to entrees using seafood. Learn tips for purchasing the freshest seafood, ways to manage costs, and the benefits of using seafood throughout the holidays and upcoming year at this session.
Session leaders are passionate about sharing their favorite recipes, expertise and personal experiences regarding seafood as we encourage you to think beyond the fish fillet. Come and taste shrimp creole, tuna flatbread, salmon crusted filets and more from tried and tested personal recipes.
This event is open to the Vanderbilt community. All attending will receive samples and recipes. Learn more on the Vandy Cooks website.
Contact:
Marilyn Holmes, VRWC
marilyn.c.holmes@vanderbilt.edu
(615) 343-2638