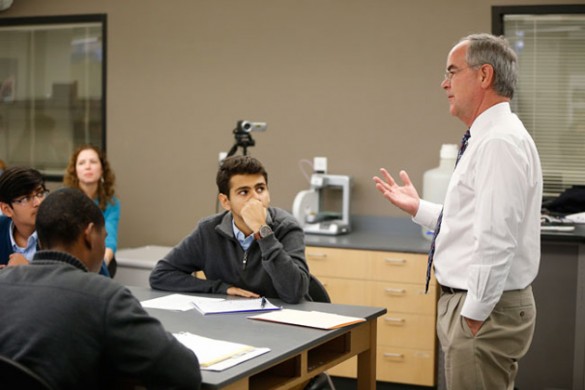 On Nov. 12, Congressman Jim Cooper of Tennessee's 5th District visited the School for Science and Math at Vanderbilt, a four-year interdisciplinary research-centered learning experience for Nashville high school students.
He spoke to the 11th-graders about the importance of being informed and scientifically literate as well as the importance of understanding how technology and innovation fit into the broader context of politics and economics.
Cooper, who was recognized by the Science Coalition with its Champion of Science Award in 2013 for his commitment to scientific research, expressed his enjoyment of being in a science lab.
Students were able to guide the discussion as he fielded questions about government funding of basic research and the future of STEM (science, technology, engineering and math) education. He encouraged the students to be "readers, critical thinkers and active citizens."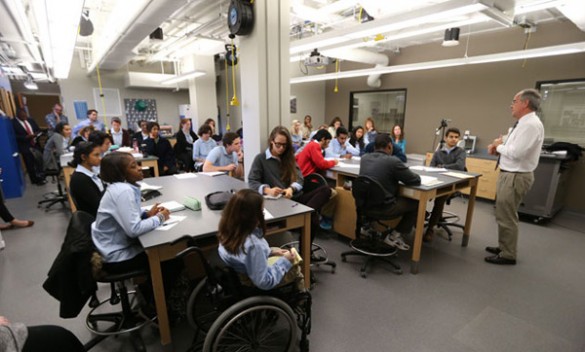 SSMV is a joint venture of Vanderbilt and Metropolitan Nashville Public Schools. It is a program of the Vanderbilt Center for Science Outreach in the Department of Teaching and Learning at Vanderbilt's Peabody College of education and human development.
During the school year, the students attend classes at the SSMV lab/classroom in the Wyatt Center one day a week. During the summers, they spend six weeks on campus full-time, working side by side with Vanderbilt researchers. As rising seniors, they enter research laboratories where they work on independent projects.
Many compete in the prestigious Siemens Competition in Math, Science and Technology. Fifteen SSMV students have been named semi-finalists in the past six years.
Program contact:
Angela Eeds, (615) 322-7132