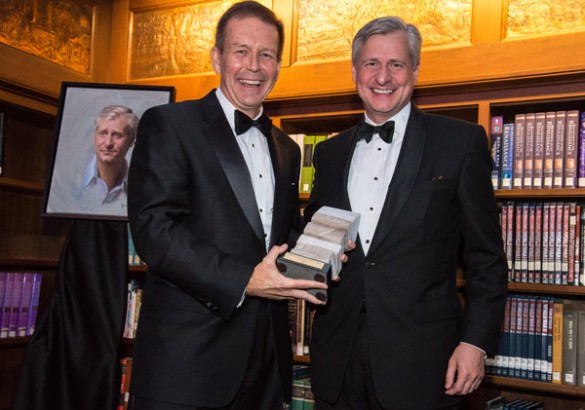 The author of a new biography of President George H.W. Bush – and a Distinguished Visiting Professor at Vanderbilt – was honored at the Downtown Nashville Library for contributions to books and learning.
Jon Meacham, a Pulitzer Prize-winning author and journalist, was named Nov. 14 as the 2015 Nashville Public Library Literary Award Honoree.
"Jon Meacham makes history thrilling while getting it right. As a historian, I'm acutely aware of how difficult it is to do both at once," said Lauren Benton, dean of the Vanderbilt College of Arts and Science and Nelson Tyrone Jr. Chair in History. "It takes rare intelligence, combined with equally rare literary gifts."
The Nashville Public Library Literary Award was created to recognize distinguished authors and other individuals for their contribution to the world of books and reading. Each year the award is given to honor an outstanding individual for his or her achievements, promote books, literacy and reading and benefit the library. Previous winners of the award include Margaret Atwood, John Irving and John Updike.
Meacham's book Destiny and Power: The America Odyssey of George Herbert Walker Bushhas been a critical favorite since its release Nov. 10.
"Meacham's access and lack of ideological fervor allow him to paint Bush the man in unusually subtle colors," wrote Jim Kelly in The New York Times. "Destiny and Power reflects the qualities of both the subject and biographer: judicious, balanced, deliberative, with a deep appreciation of history and the personalities who shape it."
Meacham, executive editor and executive vice president at Random House, was awarded the Pulitzer Prize for American Lion: Andrew Jackson in the White House. His book Thomas Jefferson: The Art of Power was a No. 1 New York Times bestseller and made many critics' "best of the year" lists.
He will teach a course next term at Vanderbilt in collaboration with John Geer, vice provost for academic and strategic affairs and Gertrude Conaway Vanderbilt Professor of Political Science at Vanderbilt, titled "Politicians." The course will examine the skills needed to be a successful politician and the often conflicting demands of political life.
"Vanderbilt is so lucky to have Jon Meacham as part of our community," Geer said. "He is that rare scholar who not only marshals compelling intellectual arguments, but uses them to shape the national debate. His many gifts are on display in every page he writes and in every sentence he utters."
Meacham is a contributing editor to Time and a former editor of Newsweek. A fellow of the Society of American Historians, he is a trustee of the Thomas Jefferson Foundation at Monticello, chairs the National Advisory Board of the John C. Danforth Center on Religion and Politics at Washington University, and is a scholar-trustee of the New York Historical Society.
Based in Nashville with his wife and three children, Meacham grew up in Chattanooga and graduated from The University of the South, where he was salutatorian and has since served as a member of Sewanee's Board of Trustees and Board of Regents. He began his career reporting for The Chattanooga Times and has written for The New York Times, The New York Times Book Review and The Washington Post, among other publications.