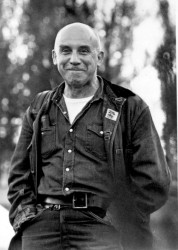 Jazz and poetry performances, a photography exhibition, and a workshop on contemplative leadership are all part of a Vanderbilt University centenary celebration of the legacy of Thomas Merton.
Merton, a Catholic monk, author, artist and teacher, was born in 1915 in Prades, France. He became Roman Catholic while attending Columbia University. In 1941 he entered the Abbey of Gethsemani, a community of monks belonging to the Order of Cistercians of the Strict Observance (Trappists). It was there that Merton became a writer of international renown through such books as New Seeds of Contemplation, a devotional classic.
Merton became a strong supporter of the 1960s peace movement and the nonviolent civil rights movement. His autobiography, The Seven Storey Mountain, has sold more than 1 million copies. During the last years of his life, Merton studied Asian religions, especially Zen Buddhism, and promoted East–West dialogue.
The idea for a Merton commemorative began with a conversation between Mark Forrester, university chaplain and director of religious life, and Dave Perkins, associate director of the Religion in the Arts and Contemporary Culture program. They discovered a mutual interest in Merton, as he had influenced both of their religious and intellectual lives.
"With a belief that Merton's influence is wide and his voice still relevant, we made plans to commemorate him in 2015, his centenary year," Perkins said. "[rquote]Merton's love of the arts is the inspiration for the Vanderbilt events.[/rquote]"
The following events are scheduled:
Dec. 2 at 4 p.m.: "Thomas Merton and the Awful Silence," lecture by Victor Judge, assistant dean for Vanderbilt Divinity School, Room G-20 of the Divinity School. Judge's talk will address Merton's interpretation of the role of the Christian writer in the modern world and his understanding that "monk" and "writer" are not mutually exclusive callings.
Dec. 2 at 6:30 p.m.: "Merton and Tao: An Experimental Theatrical Piece Based on Thomas Merton's The Way of Chuang Tzu," conceived and directed by Bill Feehley, Nashville actor, performer, and retired professor from Belmont University. The performance will be at St. Augustine's Episcopal Chapel. Also participating is Richard Gershman, an accomplished television director and chair of the Watkins College of Art Department of Film.
Dec. 3–Feb. 26: "A Hidden Wholeness: The Zen Photography of Thomas Merton," Vanderbilt Divinity School, Room G-20. The exhibit's opening reception will be Dec. 3 from 3 to 7 p.m. For ongoing gallery hours, visit the Religion in the Arts website.
Dec. 3 at 7 p.m.: "Life at Gethsemani Abbey: Poetry of Thomas Merton and Paul Quenon," in the Divinity School Reading Room (just prior to the jazz performance). Brother Quenon received his initial training as a novice under Merton. Originally from West Virginia, Quenon has retained a love for hills, fields and woodlands and has published six books of poetry.
Dec. 3 at 7 p.m.: "Merton's Jazz and Memories of a Friend" performance by Dick Sisto, in the Divinity School Reading Room. Sisto is an internationally renowned vibraphonist and author of The Jazz Vibraphone Book: Etudes in the Style of Masters. Performing with Sisto will be double bassist Jeremy Allen, a professor of jazz bass at Indiana University who has recorded and played with many prominent musicians.
Dec. 5 at 9:30 a.m.: Contemplative Leadership workshop, Room 122 of at Vanderbilt Divinity School. Katharine Baker, associate director of the Cal Turner Center for Moral Leadership in the Professions, will lead the workshop, using the wisdom of Thomas Merton and other spiritual leaders.
The Thomas Merton Centenary Celebration is co-sponsored by the Office of the University Chaplain and Religious Life, Religion in the Arts and Contemporary Culture, Center for Contemplative Justice, Cal Turner Program for Moral Leadership in the Professions, and Project Dialogue.