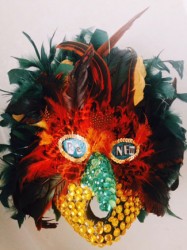 Don't miss the chance to see the profound creations of six local artists whose experiences with head and neck cancer have inspired works of art. In "Courage Unmasked," the radiation masks used in their treatment have been repurposed to express hope, spirituality and strength.
Visit the Sarratt Art Gallery on the main floor of the Sarratt Student Center from 9 a.m. to 9 p.m. daily. The exhibit is free and open to the public.
Sara Bickell and Cindy Young from the Vanderbilt Dean of Student's Office, Teresa Gray from Vanderbilt Library Special Collections, Jennifer Wilkins from Vanderbilt University Medical Center, and Diane Sesler and Aliyah Young from the Nashville community created this year's masks.
Proceeds from the sale of the masks will go to the Caring Hearts Fund at the Vanderbilt-Ingram Cancer Center to provide financial support to cancer patients undergoing treatment.
Contact: David Heustess, (615) 343-0491
david.f.heustess@vanderbilt.edu