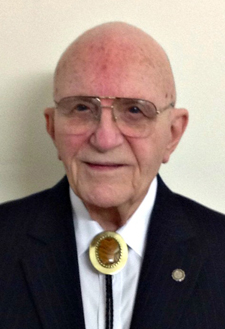 A retired United Methodist Church minister who followed in his father's footsteps from Missouri to Vanderbilt University Divinity School has established a scholarship to inspire a new generation of Missouri Methodist church leaders.
The Rev. E.W. Bartley Sr., 1915 and Rev. E.W. Bartley Jr., 1940 Scholarship will provide financial support to deserving Vanderbilt master of divinity students.
"Together the Bartleys served Missouri Methodism with more than a century of Christian service," said Emilie M. Townes, dean of Vanderbilt Divinity School and the E. Rhodes and Leona B. Carpenter Professor of Womanist Ethics and Society. "This generous scholarship should attract prospective students from the Missouri Conference of the United Methodist Church to Vanderbilt Divinity School and then return them to serve there."
Elbridge Wesley Bartley Sr. was born in Kansas City, Missouri, in 1887. He earned a bachelor's degree from Central Methodist University in Fayette, Missouri, before enrolling at Vanderbilt, where he received a bachelor of divinity in 1915. Bartley Sr. was a staunch member of the Methodist Episcopal Church South, while his son, Elbridge Wesley Bartley Jr., has been a proud member of the United Methodist Church. Bartley Sr. attended Vanderbilt during a major rift in the relationship between the university and the Methodists, according to James P. Byrd, associate professor of American religious history and associate dean for graduate education and research.
"The survival of what was then called the Vanderbilt School of Religion was very much in question while the father and son were on campus," Byrd said. "The Methodist Episcopal Church South had good reason to believe that it owned Vanderbilt. The Vanderbilt Board of Trust disagreed, and the formal relationship between the Methodists and Vanderbilt ended after the university won a lawsuit in 1914."
Byrd said there was a push under Chancellor James Kirkland, who led Vanderbilt from 1893 to 1937, to close the School of Religion since the Methodists were no longer paying for it. "Vanderbilt is fortunate that the Bartleys remained loyal to Vanderbilt during those rocky years with the Methodists," Byrd said.
Bartley Sr., who died in 1965, served many churches during his 49 years of service, including several in Kansas City and St. Louis, as well as Appleton City, Norborne, Lawson, Pleasant Hill, and Rich Hill, Missouri. A Sedalia newspaper obituary said that "Bartley's heart was in the church and he lived his work every day of his life" (Vanderbilt University Archives, source unidentified).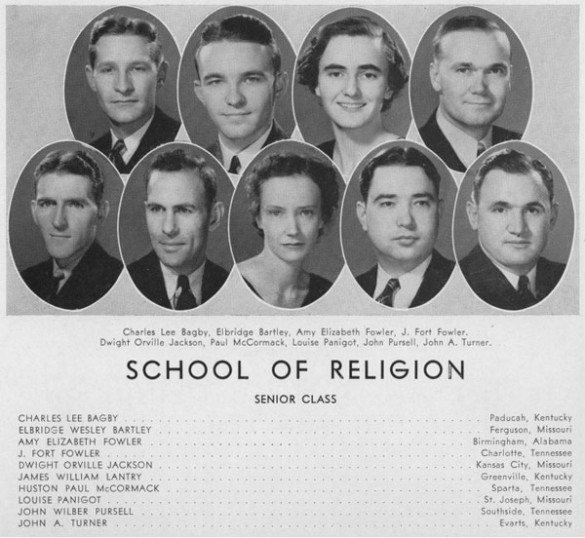 Bartley Jr., who is 99 years old and the surviving member of the Class of 1940, was born in Kansas City, Missouri. Like his father, Bartley Jr. earned a bachelor's degree from Central Methodist University before enrolling at Vanderbilt. Bartley Jr. has served churches in Missouri cities that include Kansas City, St. Louis, Rolla and Charleston.
Bartley Jr. and three other students from Central were recruited to Vanderbilt by Umphrey Lee, who served as dean of the School of Religion from 1936 to 1939. At their 50th reunion, they made a gift to endow the Umphrey Lee Dean's Award, which is given to the student, who, in the judgement of the dean, demonstrates the vision of the Divinity School. Bartley Jr. continues to make gifts to fund that award.