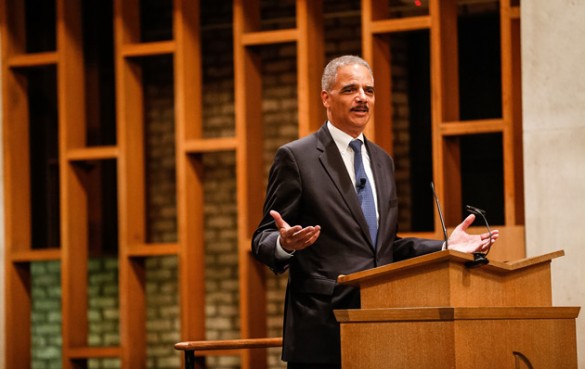 Former U.S. Attorney General Eric Holder appeared at Vanderbilt's Benton Chapel Nov. 6 in his first public speaking engagement since stepping down as the nation's chief law enforcement officer in April 2015. The event kicked off the 2015-16 Chancellor's Lecture Series.
Holder touched on a variety of topics, including immigration, climate change, prosecuting terrorists, the U.S. prison system, voting rights, income inequality, and same-sex marriage. The discussion, titled "Principled Leadership: The Courage to Face Challenge," featured personal remarks, a conversation with Chancellor Nicholas S. Zeppos and questions from the audience.
Holder was appointed the 82nd attorney general of the United States by President Obama in 2009. He was the first African American to serve in the role and the third longest-serving attorney general in U.S. history. He was succeeded by current U.S. Attorney General Loretta Lynch.